HTC faces near-term sales slowdown: Merrill Lynch
HTC Corp (宏達電) sales are expected to remain weak in the near term as the company is facing heated competition and a shift to 4G Long Term Evolution wireless technology products, Bank of America Merrill Lynch said.
In a recent research note, the investment bank said HTC has noticed a slowdown in its business in the US market, which contributes to 40 to 50 percent of its sales.
"IPhone 4S momentum is extremely strong and is the largest winner in the fourth quarter. Also, there is a product transition on HTC's models for Sprint Nextel and Sprint, as a new carrier for Apple, has a big push on iPhone 4S," Merrill Lynch analyst Robert Cheng (鄭勝榮) said in the note.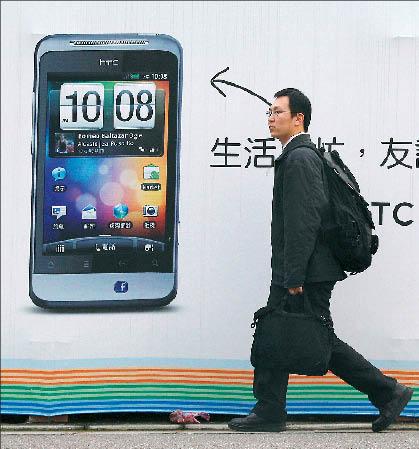 A man walks past an HTC advertisement in Taipei yesterday. HTC Corp said it has no plans for now to change its fourth-quarter sales guidance, as shares in the world's No.4 smartphone maker fell more than 6 percent on concern its sales decline may not moderate from a 30 percent drop last month.
Photo: Pichi Chuang, Reuters
Shares of HTC, the world's No. 4 smartphone brand, fell 6.55 percent yesterday after the company on Tuesday reported an approximate 30 percent fall in sales for last month from a month earlier, dealers said.
There have also been concerns over the potential impact on HTC's sales if the US' International Trade Commission rules that the Taiwanese company infringed on patents, as stated by rival Apple Inc, and moves to ban sales of HTC products in the US, they said.
In Taipei trading, HTC closed at NT$428, with 18.12 million shares changing hands, the Taiwan Stock Exchange's data showed.
"The steep drop in HTC's November sales has raised fears that the company will continue to suffer more revenue declines as it is faced with fierce competition from Apple," Horizon Securities (宏遠證券) analyst Benson Huang (黃重善) said.
"HTC is feeling the pinch of the popularity of Apple's iPhone 4S, which has turned many potential buyers away from the Taiwanese firm's counters," Huang said.
HTC's consolidated sales fell 29.8 percent last month from October to NT$30.94 billion (US$1.03 billion), down 19.6 percent from a year earlier. In the first 11 months, the company posted NT$439.43 billion in sales, up 78.87 percent year-on-year.
Huang said that in addition to competition from Apple in high-end smartphone models, HTC encountered competition from Chinese rivals, such as Huawei Technologies Co (華為), in low-end models.
"It seems that the November sales are highlighting the difficulties HTC are going through," he said.
Although HTC's business in Asia remains solid, with strong growth, it cannot offset the slowdown in other regions on the back of its smaller base, Cheng said.
On Nov. 23, HTC dropped its previous forecast for the fourth quarter, saying the new revenue guidance would be equal to the same period of last year because of a poor macroenvironment as well as competition. That means HTC's fourth-quarter revenue would be about NT$104 billion, down 17 to 23 percent from the range of NT$125 billion and NT$135 billion that it forecast at an Oct. 31 investors' conference.
"It is no surprise that institutional investors are cutting their holdings in HTC to prevent further losses down the road," Huang said.
Comments will be moderated. Keep comments relevant to the article. Remarks containing abusive and obscene language, personal attacks of any kind or promotion will be removed and the user banned. Final decision will be at the discretion of the Taipei Times.