Media executives clamor to exploit potential of sports
Rather than cheering along in a soccer stadium or basketball arena, today's biggest sports fans can probably be found sifting through spreadsheets in a quiet corner office.
That is because US sports represent one of the few businesses that keeps getting better for media companies, providing an important buffer against an otherwise uncertain economy. Even as Americans struggle, they keep tuning in to sports. Scandals and labor strife seemingly have done nothing to subdue their passion.
At least for now, fans keep paying up for costly TV packages, such as "Sunday Ticket," DirecTV's National Football League (NFL) offering. Advertisers, too, seem willing to pay top dollar to buy commercial time during sports. Some of the 30-second spots for the upcoming Super Bowl cost upward of US$3.5 million.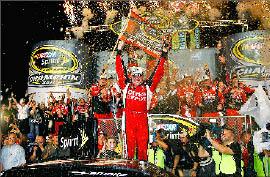 Tony Stewart, driver of the No. 14 Office Depot/Mobil 1 Chevrolet, celebrates in victory lane with a cola after winning the NASCAR Sprint Cup Series Ford 400 and the series championship in Homestead, Florida, on Nov. 20.
Photo: AFP
Media and sports executives who spoke this week at the Reuters Global Media Summit see no signs consumers are losing their appetites for sports or cutting back in tough economic times.
"Content is king and sports content is the king of kings," Major League Soccer (MLS) commissioner Don Garber said. "Every time our industry thinks it's reached a peak, something happens which surprises."
When soccer governing body FIFA sold US broadcast rights for the World Cup for about US$1.2 billion this year, up from US$40 million a decade ago, Garber said he was "astounded."
Others were just as shocked at the deal Walt Disney Co's ESPN inked with the National Football League in September last year. The network agreed to pay US$1.9 billion a year to keep Monday Night Football games through 2021, about 73 percent more than ESPN had previously paid the league.
To ESPN, the deal secured not just weekly games that are grabbing more and more viewers, but unlimited use of highlights and more than 500 new hours of NFL-branded studio programming a year. That content can keep fans watching and checking out the network's Web sites or mobile applications even when teams are not on the field.
"It is expensive, make no mistake," said John Skipper, ESPN's incoming president and current head of content. "For us the deal is worth it."
And that is because those costs — plus a whole lot more — can be made back from selling advertising time and collecting subscription fees from cable companies, who themselves can pass along higher prices to sports-crazy consumers.
This fall, 18 of the 20 highest-rated programs in the US have been NFL games. And Major League Baseball's World Series between the Texas Rangers and St Louis Cardinals on News Corp's Fox network averaged 16.6 million viewers, up about 19 percent from last year.
Those are attractive figures for any advertiser, well aware that most viewers are watching sporting events on live TV, rather than recording the program and watching it later, as is often the case with comedies or dramas.
"Advertisers do like live sports because of the level of engagement. You hold an audience," said Jacki Kelley, global CEO of Interpublic Group's Universal McCann, a media agency whose clients include Microsoft Corp, Sony Corp and Exxon Mobil Corp.
"Live sports are a continued opportunity and one we're continuing to invest in," she said, speaking at the summit on Thursday.
TV networks have responded by broadcasting an ever increasing amount of sports content. Comcast Corp, the new majority owner of NBC Universal, has made a priority out of building its sports coverage in hopes of better competing with ESPN. It just reached a three-year, US$30 million deal for rights to air MLS games on NBC Universal's sports networks.
Then there is the 14-year deal between CBS Corp's CBS and Time Warner's Turner that allows basketball fans to watch more of the National Collegiate Athletic Associations' March Madness playoffs than ever before. And all three of the major US sports leagues have their own TV networks that broadcast games, analysis and features.
Still, audiences cannot seem to get enough.
"We've been able to add these things and consumption keeps going up and up and up," said Brian Rolapp, head of the NFL's media business.
Comments will be moderated. Keep comments relevant to the article. Remarks containing abusive and obscene language, personal attacks of any kind or promotion will be removed and the user banned. Final decision will be at the discretion of the Taipei Times.