Samsung now No. 1 in smartphones
Samsung Electronics Co overtook Apple Inc in the third quarter to become the world's largest smartphone vendor amid a widening technology and legal battle between the two companies.
Samsung shipped 27.8 million smartphones in the third quarter, taking 23.8 percent of the market, Milton Keynes, UK-based Strategy Analytics said in an e-mailed statement yesterday.
Apple's 17.1 million shipments, comprising 14.6 percent of the market, pushed the Cupertino, California-based company to second place. Nokia Oyj maintained its third position, it said.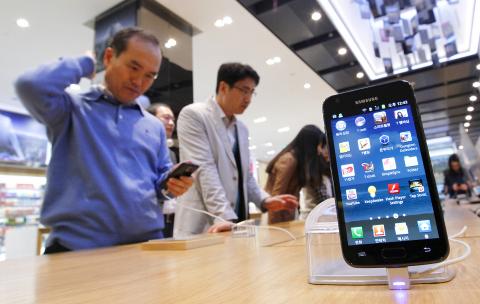 Customers look at Samsung Electronics' Galaxy S II LTE smartphones on display yesterday at a shop at the company's headquarters in Seoul, South Korea.
Photo: Reuters
Apple, which released its iPhone 4S this month, held the top spot for only one quarter after dislodging Espoo, Finland-based Nokia earlier this year. Samsung, based in Suwon, South Korea, has turned to Google Inc's Android software to boost sales of its Galaxy smartphones and tablet computers.
"Samsung's rise has been driven by a blend of elegant hardware designs, popular Android services, memorable sub-brands and extensive global distribution," Strategy Analytics wrote. "Samsung has demonstrated that it is possible, at least in the short term, to differentiate and grow by using the Android ecosystem."
The global smartphone market climbed 44 percent from a year earlier to 117 million units, Strategy Analytics said. Nokia dropped to 14.4 percent from 32.7 percent a year earlier.
In the wider mobile-phone market that includes lower-cost devices, Nokia maintained its top spot even after losing 5 percentage points of share, the researcher said in a separate statement. Its 27.3 percent kept it ahead of Samsung's 22.6 percent, with LG Electronics Inc third.
Chinese phone maker ZTE Corp's (中興) cheaper handsets helped it take 4.7 percent and overtake Apple for fourth place. Global market shipments climbed 14 percent to 390 million units, according to the researcher.
Samsung, also the world's largest manufacturer of televisions, yesterday reported record revenue from its phone division that helped mask a slump in earnings from computer-memory chips and panels.
The handset business had an operating profit of 2.52 trillion won (US$2.3 billion) in the three months ended Sept. 30, Samsung said in a statement. That helped the company post 3.44 trillion won net income in the quarter, matching the 3.4 trillion won average of 25 analysts' estimates compiled by Bloomberg.
Companywide operating income, or sales minus the cost of goods sold and administrative expenses, fell 13 percent to 4.25 trillion won, in line with the company's preliminary estimate of 4.2 trillion won.
Comments will be moderated. Keep comments relevant to the article. Remarks containing abusive and obscene language, personal attacks of any kind or promotion will be removed and the user banned. Final decision will be at the discretion of the Taipei Times.