Lee Sush-der reject's Yaung's criticism
WAR OF WORDS: The former health minister said Lee Sush-der was 'the worst finance minister' and the tax system was driving the nation into debt, but Lee took exception
Minister of Finance Lee Sush-der (李述德) yesterday defended the nation's taxation system in response to criticism by former Department of Health minister Yaung Chih-liang (楊志良), who said on Saturday that he was "the worst finance minister."
Yaung criticized Lee and said the Ministry of Finance was "the worst of all government bodies" in a speech to a forum organized by the department to talk about challenges facing healthcare system reform in Taiwan.
"I have been wanting to say this for a long time," Yaung said.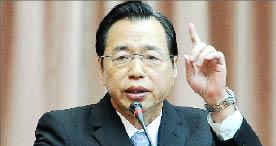 Minister of Finance Lee Sush-der yesterday tells the Legislative Yuan that it is unfair to blame his ministry for the difficulties plaguing the national health system.
Photo: Chu Pei-hsiung, Taipei Times
Yaung said that the nation would be "incurable" if the government failed to introduce tax reform, because the current taxation system was unfair.
The government has failed to impose enough taxes on the rich, which blocked the reform of the national health insurance, Yaung said.
In addition, the current tax rate was the lowest among developed countries, driving the government into substantial debt that will deepen people's burdens in the future, he added.
The nation's tax rate — a calculation of tax revenues as a percentage of Taiwan's GDP — amounted to 11.9 percent last year, the ministry's statistics showed. South Korea's tax rate stood at 20.7 percent in 2008, while the rate in the US was 19.5 percent during the same period, data showed.
Although the tax rate in Taiwan is lower than that of Organisation for Economic Cooperation and Development members, Lee said that the rate was only a single indicator that could not show the broad picture of a nation's international competitiveness.
"In fact, Taiwan's tax burden rate is reasonable, as it is not a country spending that much on social welfare," he told a media conference yesterday.
The government can still manage public construction even without increasing the tax burden, through ways such as encouraging private companies to join the public construction projects, Lee said.
He also called the nation's finances stable and healthy, saying that the central government's tax revenue accounted for 72.3 percent of Taiwan's annual income last year, higher than a 70 percent target set by the ministry.
During the earlier legislative question-and-answer session yesterday, Lee told several legislators that he respected Yaung's personal opinions, but could not accept -being called "the worst finance minister" because it was not true.
Lee also said he rejected Yaung's criticism that his ministry was "the worst" in the government because of all his hard-working colleagues in the ministry.
"The public will decide who is right and wrong," Lee said.
Comments will be moderated. Keep comments relevant to the article. Remarks containing abusive and obscene language, personal attacks of any kind or promotion will be removed and the user banned. Final decision will be at the discretion of the Taipei Times.