G20 mulls 50 percent Greek writedown
STRATEGY MEETING: Finance ministers of leading world economies were set to discuss how to rescue Greece from bankruptcy and the European debt crisis
Global finance chiefs were yesterday focusing on ways to fix Europe's sovereign debt crisis as the region's officials consider writing down Greek bonds by as much as 50 percent and establishing a backstop for banks.
Finance ministers and central bankers from the G20 are meeting in Paris to discuss the global economy. People familiar with the matter said on Friday that eurozone governments are revamping their strategy to combat the debt turmoil which marks its second anniversary next week.
"The world is waiting for solutions to the European problems that have now become the world's problems," Brazilian Finance Minister Guido Mantega told reporters on Friday in Paris. "I am more optimistic. They are advancing."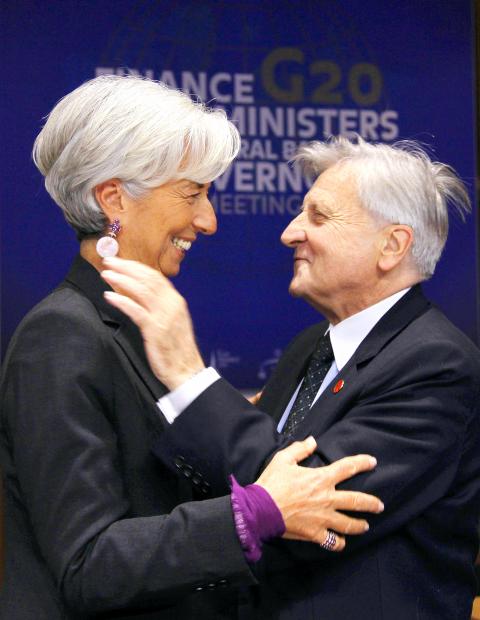 IMF Managing Director Christine Lagarde, left, speaks with European Central Bank President Jean-Claude Trichet yesterday, before the beginning of a meeting on the second day of the G20 summit of finance ministers and central bank governors in Paris.
Photo: AFP
There was some discord among G20 officials as those from rich nations such as the US, Germany and Canada questioned proposals to expand the resources of the IMF to help it contain Europe's woes.
"I don't think we ought to be asking the IMF to do a great deal more," Canadian Finance Minister Jim Flaherty said.
US Secretary of the Treasury Timothy Geithner told CNBC that the lender already has "very substantial resources that are uncommitted."
The G20 policymakers are preparing for a Nov. 3 and Nov. 4 summit of leaders in Cannes, France. Yesterday's talks were to end with the release of a statement and a press conference at about 4:15pm.
The group would refrain in its communique from toughening calls for greater currency flexibility, according to an official from a G20 country who spoke on condition of anonymity.
China, which has been criticized for not allowing the yuan to appreciate more, said on Friday that the current priority is solving Europe's debt crisis. The US on Friday postponed a report on the exchange-rate policies of its trading partners.
In the works is a five-point plan foreseeing a solution for Greece, bolstering of the European Financial Stability Facility (EFSF) rescue fund, fresh capital for banks, a new push to boost competitiveness and consideration of European treaty amendments to tighten economic management.
G20 policymakers maintained pressure on European counterparts to deliver a remedy. While Europe is weighing a "much more forceful package," Geithner said on CNBC that "the hard part is still ahead."
Australian Treasurer Wayne Swan told reporters that "the first priority" for the G20 "is for Europe to put their own house in order."
Europe's strategy hinges on putting Greece on a viable path, as two years of austerity plunge it deeper into recession and provoke civil unrest that threatens political stability.
Under a more aggressive proposal, investors would exchange Greek bonds for new debt at a lower face value collateralized by the eurozone's "AAA"-rated rescue fund, the people said.
The ultimate option is a restructuring involving writedowns without collateral, they said.
The constraint is how to cut Greece's debt without leading ratings companies to declare the country in default. Such a "credit event" triggered by a forced restructuring could unleash a cascade of losses through markets.
The bank-aid model under discussion is to set up a European-level backstop capitalized by the 440 billion euro (US$609 billion) EFSF rescue fund, the people said.
It would have the power to take direct equity stakes in banks and provide guarantees on bank liabilities.
French Finance Minister Francois Baroin said on Europe 1 radio on Friday that it may be "good" to force banks to maintain a 9 percent capital buffer to absorb sovereign risks, up from the 5 percent core capital level used in July's stress tests.
Nations from China to Brazil are considering increasing the IMF's lending power, a month after IMF Managing Director Christine Lagarde said her US$390 billion war chest may not suffice to meet all loan requests should the global economy worsen.
Comments will be moderated. Keep comments relevant to the article. Remarks containing abusive and obscene language, personal attacks of any kind or promotion will be removed and the user banned. Final decision will be at the discretion of the Taipei Times.