China Airlines joins SkyTeam Alliance
China Airlines Ltd (CAL, 中華航空), the nation's largest air carrier, expects joining the SkyTeam Alliance to contribute NT$1 billion to NT$2 billion (US$329 million to US$658 million) in company revenue by next year.
"History shows that joining the SkyTeam Alliance can benefit an air carrier's yearly revenue by 1 percent to 7 percent, while we conservatively estimate a NT$1 billion contribution for next year, the company's first full year in the alliance," CAL president Sun Hung-hsiang (孫洪祥) told a media briefing yesterday.
In addition, becoming a member of SkyTeam Alliance can help an airline reduce its costs by 1 percent to 2 percent, Sun said, adding that CAL expects an initial cost-saving of between 0.5 percent and 1 percent for the next year.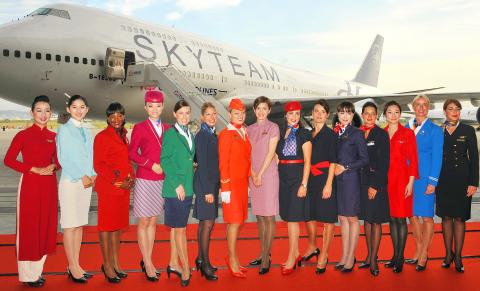 Flight attendants from SkyTeam Alliance member airlines, the world's second-largest airline alliance, stand in front of China Airlines' first airplane bearing the SkyTeam emblem at a ceremony yesterday to celebrate China Airlines becoming the alliance's 15th member.
Photo: Yao Chieh-hsiu, Taipei Times
The company's remark came as it signed an agreement with SkyTeam Alliance, one of the three major global airline alliances, to become its 15th full member. CAL expects to increase its international destinations to 926, from its current 80 destinations, by joining the alliance, the company said.
CAL chairman Chang Chia-juch (張家祝) said the company also expects to join SkyTeam Cargo, a global cargo alliance, as the company faces a continued weakening of its cargo business this year.
"We are confident that the company will successfully join the cargo alliance, since we have already become a member of SkyTeam Alliance," Chang said.
Looking ahead, Chang said the visibility for next year's cargo market remains unclear.
"The fourth quarter used to be the traditional hot season for cargo business, but the global economic slowdown contracted the seasonal demand," Chang said.
Chang also expects crude oil prices to stand at an "acceptable" level between US$80 to US$100 per barrel for the rest of the year and next year amid the slowing global economy.
Comments will be moderated. Keep comments relevant to the article. Remarks containing abusive and obscene language, personal attacks of any kind or promotion will be removed and the user banned. Final decision will be at the discretion of the Taipei Times.