US government blocks AT&T purchase
NO GO: In its biggest antitrust challenge yet, the Obama administration said if AT&T bought T-Mobile USA it would be disastrous for consumers, and sued to stop the deal
The US government on Wednesday sued to block AT&T Inc's US$39 billion purchase of T-Mobile USA, citing concerns it will harm competition in the wireless market and lead to higher prices.
The surprise move, which was the biggest antitrust challenge yet by the Obama administration, caught the carriers by surprise and, if successful, would end AT&T's move to unseat Verizon Wireless as the No. 1 US mobile carrier.
If AT&T fails to defeat the Justice Department lawsuit, it will prove very costly — the No. 2 carrier would have to pay T-Mobile parent Deutsche Telekom an estimated US$6 billion in cash and other assets as part of the original deal.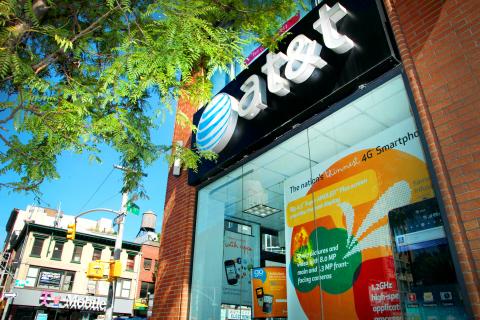 T-Mobile USA and rival AT&T signage is displayed on cellphone stores in New York on Wednesday.
Photo: Bloomberg
The announcement is a slap in the face for AT&T chief executive Randall Stephenson, who was poised for a career-defining deal that would allow him to emerge from the shadow of predecessor and serial acquirer Ed Whitacre.
The court case could take months and cost millions of dollars. Wall Street immediately signaled the deal was likely now a long shot, with shares in the companies falling sharply.
Justice Department officials warned that allowing AT&T to gobble up the No. 4 carrier would be disastrous for consumers.
"Were the merger to proceed, there would only be three providers with 90 percent of the market, and competition among the remaining competitors on all dimensions, including price, quality and innovation, would be diminished," Deputy Attorney General James Cole said.
The lawsuit came only five months after the deal was announced and despite the surprising timing, one source close to the case said it was a real attempt to halt a "fundamentally flawed" deal, not a tactic to wring big concessions from AT&T.
They would have to give up "so much" to win approval, the source said. Still, Justice Department officials said they were willing to consider proposals to ameliorate their concerns, but they expected to the fight to shift to federal court.
A source close to one of the carriers said they may have to offer to divest up to 25 percent of the combined company's assets, up from an earlier estimate of up to 10 percent, to try to save the deal.
The government's lawsuit overshadowed an announcement just hours earlier by AT&T that it would bring back 5,000 call center jobs to the US if the deal closed.
Just a day ago, the two sides had met to continue discussions on the merger and the Justice Department dropped no hints that it was getting frustrated with the talks.
The two sides were "talking past each other," said one source familiar with the case, adding that the Justice Department side felt that nothing was really presented to address their competition concerns.
AT&T's Stephenson has argued that his company needs T-Mobile to get more wireless airwaves to meet exploding demand for high-speed mobile services from smartphones and tablets.
Stephenson put himself on the line with this deal so he has no choice but to double down, said a person close to AT&T.
Shares of AT&T closed down 3.8 percent at US$28.48 on the New York Stock Exchange, while Deutsche Telekom shares fell 7.6 percent to 8.81 euros in Frankfurt trade.
"This one took everybody by surprise," said a person close to one of the carriers, adding that they thought the Justice Department would ask for concessions but not derail the deal.
Meanwhile shares of Sprint Nextel Corp — the No. 3 US wireless carrier, which has fiercely opposed the deal — shot up almost 6 percent to close at US$3.76. A scuppered acquisition could prompt Sprint to consider buying T-Mobile.
If the government succeeds in blocking the deal, it would also be a major setback for Deutsche Telekom, which for years has been looking for a way out of T-Mobile USA, a business that has ceased to be a source of growth.
Deutsche Telekom "will gain some short-term consolation from the penalties it can exact from AT&T," said John Delaney, an analyst at technology research firm IDC. "But in the end, DT would still be stuck with the problem of how to turn around a sub-scale national operator with a declining subscriber base."
The news also sent chills through the mergers and acquisitions market. Not only do the seven investment banks that advised on this deal stand to lose about US$150 million in fees, but bankers elsewhere were also worried it could make companies think twice about antitrust risk when mulling takeovers.
Comments will be moderated. Keep comments relevant to the article. Remarks containing abusive and obscene language, personal attacks of any kind or promotion will be removed and the user banned. Final decision will be at the discretion of the Taipei Times.