Moody's warns it might downgrade Spain rating
RISKS: The ratings firm lauded the central government's success in meeting its near-term fiscal targets, but voiced concern over local governments' performance
Moody's yesterday warned that it might downgrade Spain's credit rating over the coming three months given the country's weak economic growth prospects as well as ongoing funding pressures.
In a statement, Moody's said any reduction of the current "Aa2" rating would likely be limited to one notch subject to there not being any "unexpected development." A one notch reduction would take the rating down to "Aa3," still a healthy investment grade.
The ratings agency said that the funding pressures on Spain are likely to increase following last week's bailout package for Greece, which has set the "precedent" of private sector involvement. Banks are being asked to roll over and swap their Greek debt holdings in an effort to relieve the burden on the country.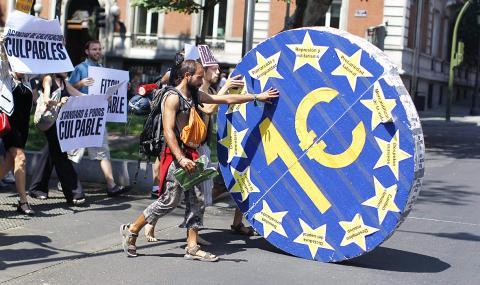 Demonstrators from Spain's 15M movement roll a giant wheel symbolizing the euro during a protest against the economic crisis, banks, rating agencies and austerity measures in Europe in Madrid on Thursday.
Photo: Reuters
Moody's said Greece's second bailout package "has signaled a clear shift in risk for bondholders of countries with high debt burdens or large budget deficits."
Spain has struggled with the aftermath of a real-estate collapse and remains plagued by high unemployment of more than 20 percent. Though its debt burden is not as high as Greece's, it does run a fairly sizable budget deficit, which requires funding in the bond markets. Its cost of borrowing has been going up in recent days and now stands at 6 percent, nearly 3.5 percentage points more than the rate Germany has to pay.
Though Moody's said its ratings are not affected by short-term market moves, it added that the risk of "a sustained rise in funding costs nevertheless has to be factored into the agency's analysis of a country's prospective debt affordability."
Usually, these reviews take up to three months to be completed.
The ratings agency downgraded six Spanish regions by one notch yesterday. Some of the biggest regions, including Catalonia and Castilla-La Mancha, saw their ratings cut. Others, including the Basque Country and Galicia, have been placed under review for downgrade.
The agency said one of the reasons behind its downgrade review for Spain as a whole is the state of the regional governments.
"Moody's views positively that the central government has been successful in meeting its near-term fiscal consolidation targets, but the rating agency nonetheless notes that challenges to long-term budget balance remain due to Spain's subdued economic growth and fiscal slippage within parts of its regional and local government sector," Moody's said.
Comments will be moderated. Keep comments relevant to the article. Remarks containing abusive and obscene language, personal attacks of any kind or promotion will be removed and the user banned. Final decision will be at the discretion of the Taipei Times.