Lagarde names Chinese to top post at IMF
China secured its first top management post in the IMF on Tuesday, in a move aimed at recognizing Beijing's growing clout in the global economy.
New IMF managing director Christine Lagarde named Chinese economist Zhu Min (朱民), 58, a former deputy governor of the People's Bank of China and a special adviser to the fund, to a newly created deputy managing director post.
She also said White House adviser David Lipton, 57, will succeed John Lipsky as first deputy managing director. Lipsky steps down at the end of his term on Aug. 31, but will stay on as a special adviser to Lagarde until the end of November.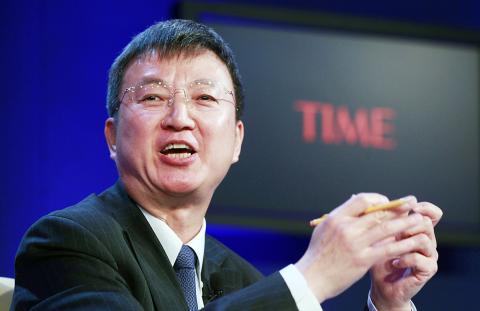 Zhu Min, then-IMF special adviser, attends a session on Jan. 26 at the World Economic Forum in Davos, Switzerland. IMF Managing Director Christine Lagarde named Zhu to a newly created deputy managing director post.
Photo: Reuters
Lipton's appointment continues a tradition of the No. 2 position in the IMF going to an American, while the head of the global lender has always been a European.
China and other emerging economies have vigorously pressed to end the long-standing practice, arguing that the selection of top officials should be based on qualifications, not nationality.
Both the US and China supported Lagarde in her campaign to become the next IMF managing director. Since taking the helm of the IMF, Lagarde has vowed to give emerging market economies a greater say in the fund.
"As deputy managing director, [Zhu] will play an important role in working with me and the rest of my management team in meeting the challenges facing our global membership in the period ahead, and in strengthening the Fund's understanding of Asia and emerging markets more generally," Lagarde said in a statement.
Zhu is set to assume his new duties on July 26, and joins Japan's Naoyuki Shinohara and Nemat Shafik, a national of Egypt, Britain and the US, as the fund's other two deputy managing directors.
While Lagarde and Lipton will be the main drivers of IMF policies, the deputy managing directors are involved in consultations with member countries and often chair board meetings.
Lagarde said Lipton would serve as a special advisor to the fund starting on July 26 before starting his official duties on Sept. 1.
Comments will be moderated. Keep comments relevant to the article. Remarks containing abusive and obscene language, personal attacks of any kind or promotion will be removed and the user banned. Final decision will be at the discretion of the Taipei Times.