Tiger Airways chiefs hold crisis talks in Australia
Senior Tiger Airways executives held crisis talks with aviation regulators in Australia yesterday as the budget carrier attempts to allay safety fears and return to the skies.
Tiger Airways Australia, a subsidiary of Singapore's Tiger Airways, was grounded for five working days on Saturday by Australia's Civil Aviation Safety Authority (CASA) for posing a "serious and imminent risk to air safety."
Tiger Airways president and chief executive Tony Davis jetted in after being handed responsibility for getting planes back in the air.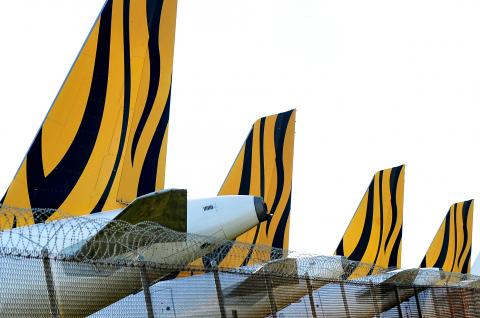 Tiger Airways airplanes sit on the tarmac at Melbourne Airport in Melbourne, Australia, on Saturday after regulators grounded the carrier over safety concerns.
Photo: AFP
In a statement to the Singapore Stock Exchange, Tiger said Davis had been instructed to focus on "assisting Tiger Airways Australia to resume operations as soon as possible."
CASA grounded the airline after a flight approached an airport too low last week and after warning of concerns in areas including pilot proficiency, training and checking, and fatigue management.
Chin Yau Seng (陳有成), previously divisional vice president of cabin crew operations at Singapore Airlines, was appointed an additional executive director to help out.
"Our goal is to resume our services as quickly as possible while restoring the confidence of both CASA and the Australian public at large that safety underpins our operations at all times," Tiger said.
It stressed that only Australian domestic services were affected and not flights to Singapore.
In a sign it is confident of returning to normal services, the airline was still taking bookings and accepting payments for domestic flights from Saturday — the day the suspension is due to expire.
CASA can only ground an airline for five working days, and must approach the Federal Court if it wants to extend the grounding any longer.
The regulator said its next move would depend on what Tiger brought to the table.
"That [meeting] will obviously be an important step in the process of investigating the recent several incidents and also canvassing the broader safety issues which we've raised with them," CASA spokesman Peter Gibson said. "We certainly can't rush matters, but on the other hand we do appreciate the public's frustration at not being able to know how long this will go on for."
Tiger estimated the suspension would cost it USUS$1.6 million a week and analysts said the airline could not sustain such losses indefinitely.
The markets responded to the uncertainty, with Tiger Air shares plunging more than 13 percent in Singapore.
Comments will be moderated. Keep comments relevant to the article. Remarks containing abusive and obscene language, personal attacks of any kind or promotion will be removed and the user banned. Final decision will be at the discretion of the Taipei Times.