Hsu Fu Chi in talks with Nestle
BIG PLANS: If Nestle bought the Taiwanese-founded company at its market value, it would be the largest acquisition of a Chinese firm by a non-Chinese buyer
Hsu Fu Chi International Ltd (徐福記國際集團), China's biggest confectioner by market value, said Nestle SA is among the parties in acquisition talks for what would be the largest overseas purchase of a Chinese company.
Nestle, the world's largest food maker, is assessing a potential bid for Hsu Fu Chi and the two companies have been in talks on a partnership for a few years, Christine Sun (孫天珍), spokeswoman for the Dongguan, Guangdong-based company, said by telephone yesterday. Trading of the Hsu Fu Chi stock was suspended in Singapore pending an announcement.
An acquisition would give Nestle access to nationwide distribution in China's confectionary market, worth about US$6 billion last year, according to researcher Euromonitor International.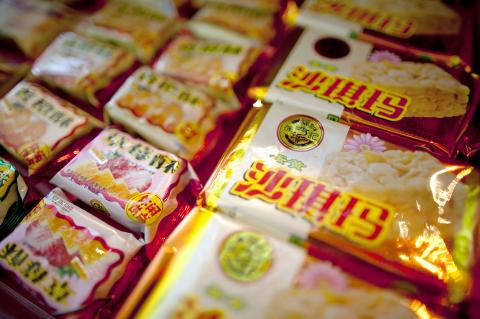 Hsu Fu Chi International Ltd food products are arranged for a photograph in Beijing, China, yesterday.
Photo: Bloomberg
A Nestle acquisition of all of Hsu Fu Chi at its US$2.6 billion market value would be the largest on record of a Chinese firm by a company based outside the country, according to Bloomberg data.
An overseas offer may -encounter regulatory scrutiny from the Chinese government, which blocked Coca-Cola Co's bid for the Asian nation's biggest domestic juice maker, China Huiyuan Juice Group Ltd (匯源果汁), in 2009 on concern the tie-up would have hurt competition.
Discussions between Nestle and Hsu Fu Chi have been on and off for about two years, according to three people, who declined to be identified because the talks are private. It is not clear whether Nestle will reach a deal, and other suitors have also been examining the Singapore-listed company, these people said.
Nina Caren Backes, a spokeswoman for Vevey, Switzerland- based Nestle, said the company does not comment on market speculation.
Hsu Fu Chi, which sold shares to the public in Singapore in December 2006, is also talking to companies in the US, Europe and Japan, Sun said.
"Hsu Fu Chi wants to find a partner that will help us to forge a long-lasting brand," Sun said.
Potential buyers are from Japan, the US and Europe, Sun said.
Hsu Fu Chi reported profit rose 31 percent to 602.2 million yuan (US$93 million) last year as sales climbed 14 percent to 4.3 billion yuan, according to Bloomberg data. The shares have risen 72 percent in the past year, giving the company a market capitalization of S$3.18 billion (US$2.6 billion).
The company, founded in 1992 by four brothers from Taiwan, has 45 large-scale production plants and can make more than 700 different types of confectionery products, according to its Web site.
Hsu Fu Chi chairman and CEO Hsu Chen (徐鐠), the second-oldest of the brothers, is the 25th richest man in Taiwan, according to Forbes magazine.
Comments will be moderated. Keep comments relevant to the article. Remarks containing abusive and obscene language, personal attacks of any kind or promotion will be removed and the user banned. Final decision will be at the discretion of the Taipei Times.