Travel agencies, stores hoping to cash in on opening to Chinese FIT market
The government's move to open up Taiwan to free independent travelers (FIT) from China might not boost the travel sector's revenue and profit in the short term, but it offers local travel agencies an opportunity to create a new service model for independent travelers from many countries, a travel agency official said yesterday.
"The opening means local travel agencies need to roll out more customized services, which is a new experience for us," Henry Liu (劉文義), president of Lion Travel Service Co Ltd (雄獅旅遊), told a media briefing.
Lion Travel has created a "one-stop services" model that provides customized services from hotel booking, airport pick-up and inland transportation to city tours, Liu said.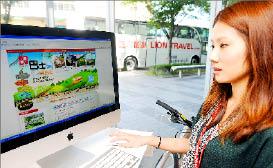 A staff member of a Taiwanese tour operator surfs a Chinese travel Web site in Taipei yesterday. Taiwanese operators are cooperating with Chinese online travel companies, holding dry runs for independent Chinese travelers before the policy is officially implemented.
Photo: Chang Chia-ming, Taipei Times
The company has also designed several travel packages for independent visitors, Liu said.
"Without the price restrictions imposed by Chinese travel agencies, I believe an independent Chinese visitor would spend at least NT$10,000 [US$346] a day during a visit to Taiwan," Liu said.
The company will cooperate with more than 20 Chinese travel agencies, mostly in Shanghai, Beijing and Xiamen, to offer service to Chinese independent travelers, and has 14 clients scheduled to arrive on Tuesday, the starting day for Chinese FIT visas, said Yeh Yu-hsiang (葉宇翔), a project manager.
However, the local tourism sector needs to expand its focus to global independent tourists because a maximum of 500 Chinese FITs a day will be allowed to visit Taiwan.
Lion Travel has begun promoting the same packages to independent travelers from Japan, Singapore and Malaysia, Yeh said.
Silks Place Yilan (蘭城晶英), a five-star hotel under Formosa International Hotels Corp (晶華國際酒店集團), also does not expect the Chinese FIT program to substantially boost its occupancy rate.
"Of course we hope individual travelers will boost business, but since there are still some loopholes here and there for the experimental FIT scheme, we are not getting our hopes up about this," Helen Ho (何佳燕), the hotel's marketing communication manager, said by telephone.
The hotel, which opened in 2009, aims to achieve an occupancy rate of 70 percent by the end of the year, up from the current 60 percent, she said.
However, Douglas Hsu (徐旭東), chairman of Far Eastern Group (遠東集團), which includes Far Eastern Department Stores Ltd (遠東百貨) and Pacific Sogo Department Store (太平洋崇光百貨), said the FIT program would boost retail sector revenues, because individual Chinese tourists will have a more flexible itinerary and more time to shop than people on group tours, especially in department stores.
In order to tap the Chinese tourist market, Far Eastern Department Stores are offering a wider variety of brand name items that are favorites of Chinese visitors, Hsu said.
The company has also prepared souvenirs such as tea and pineapple cakes it hopes Chinese tourists will be attracted to, he said.
The Uni-President Hankyu Department Store (統一阪急百貨) is also ready to handle more Chinese tourists — or more precisely, their China UnionPay (中國銀聯) bank and credit cards.
Chinese customers who use UnionPay cards for purchases at 10 of the store's counter brands would be entitled to a 10 percent discount or special gifts. The department store said the promotion would boost the appeal of its food, beauty care and accessories sales.
FamilyMart Co (全家便利商店), the nation's second-largest convenience store chain, has also stocked some outlets with the Chinese market in mind.
It opened a new outlet at the Taipei Songshan Airport, which predominately serves the cross-strait market, in late March. The outlet has a dedicated shelf for famous local delicacies such as Taichung's sun cakes and pineapple tarts. Those items currently make up 10 percent of the airport store's daily revenue, it said.
ADDITIONAL REPORTING BY CNA
Comments will be moderated. Keep comments relevant to the article. Remarks containing abusive and obscene language, personal attacks of any kind or promotion will be removed and the user banned. Final decision will be at the discretion of the Taipei Times.