INTERVIEW: Financial sector impact of IFRS
The government's decision to phase in International Financial Reporting Standards (IFRS) has worried banks, life insurers and land developers, who believe that the change could weaken asset quality, capital adequacy and share prices. However, the switch to the new accounting rules is intended to make financial disclosure more transparent and accountable and is part of Taiwan's ongoing effort to link up with the world. Andrew Fuh, head of Ernst & Young Taiwan Global Financial Service, discussed his views on the issue during an interview with 'Taipei Times' staff reporter Crystal Hsu on Friday
Taipei Times (TT): What are the main differences between the current accounting rules and IFRS to be phased in next year?
Andrew Fuh (傅文芳): The biggest difference lies in the way assets and liabilities are valued. Under current rules, the book value of a house bought 30 years ago remains unchanged despite value changes because the assets are recorded at historical cost. Such accounting practice is simpler, more stable and easier to perform, but does not reflect current fair value at all. It summarizes past transactions instead.
By contrast, IFRS requires companies to value their assets and liabilities based on their fair value or market price. Not only so, companies must also keep updating their values as market conditions change.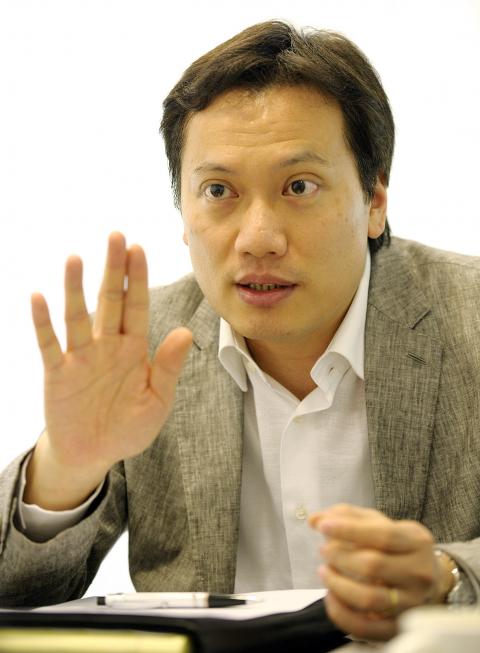 Andrew Fuh, head of Ernst & Young Taiwan Global Financial Service, talks to the Taipei Times on Friday.
Photo: George Tsorng, Taipei Times
Over the years, many investors, shareholders and analysts have complained that the information disclosed in a company's income statement is outdated, rendering the financial results worthless as references. Mark-to-market accounting allows them to better track the company's financial performance and net worth. It also requires more disclosure.
TT: Which sectors will be affected most by the adoption of IFRS and how?
Fuh: IFRS will have the biggest impact on the financial institutions because most of their assets are sensitive to mark-to--market valuations. The market price of securities, bonds and other financial assets vary daily and they will have to make adjustments accordingly.
Other service providers and manufacturers will be less affected because the market value of their assets such as equipment is relatively stable. They do not have to disclose value changes so frequently as financial firms under IFRS requirement.
TT: The upcoming IFRS conversion has raised life insurance firms' hackles as seen by their strong urge to record real estate investments based on market prices. How do you account for that?
Fuh: The life insurance companies have pressed hard for the use of market price to value their holdings in real estate properties in the hope the premium from value gains on real estate investments would more than offset the negative impact caused by IFRS adjustments on their balance sheet.
On Thursday, the Financial Supervisory Commission [FSC] approved the use of market worth in measuring their real estate properties as long as they produce regular rentals. The move, however, will not make the insurers' income statements look better because the FSC requires them to record the premium as policy reserves to cover negative interest spread accumulated over the years. The premium, if categorized as equity, could have been used to distribute dividends.
That requirement is the equivalent of asking shareholders to put their money in the pockets of -policyholders. The shareholders are surely not going to like that.
TT: The banking sector has voiced grave concerns about falling capital over IFRS. Is the risk real?
Fuh: Pension funds account for a big chunk of employee benefit expenses, especially for banks and life insurance firms since they retain a large staff to deliver services and sell financial products.
Existing accounting rules do not require immediate recognition by banks of expenses in their income statement. Now they only record the expense upon payment.
Upon adopting IFRS, however, they will have to recognize all expenses for retired staffers and employees in force, a change that will significantly weaken their net worth and share prices. Investors could avoid buying their shares, and they may have to inject fresh capital to make up for losses.
TT: Will the conversion to IFRS reshape the way companies make decisions and if so how?
Fuh: Definitely. The requirement to match income with expenses is well intended, but companies will probably have a different view and will make policy adjustments to minimize expenses to make their income statement more presentable with shareholders.
Life insurers, in particular, are likely to shun selling protection policies and underscore sales of -investment-linked policies -because the former promises greater -benefits, therefore entailing higher policy reserve to cover potential negative interest spread.
The longer people live, the greater the uncertainty of policy reserves and other related expenses. Life insurance companies are going to want to sell products with minimum guarantees, making them more like fund managers in terms of business strategy.
That explains why foreign insurance companies all focus on selling unit-linked insurance products and structured notes linked to their parent firms or affiliated trust fund companies. Those policies usually promise medical coverage not provided by the National Health Insurance Program. Already, more and more life insurance products are like time deposits except for the promise of higher interest yields.
TT: How will IFRS impact construction firms as some also plan change strategy?
Fuh: Under IFRS, land developers may not recognize construction incomes until work is completed. Currently, they are recognized in proportion to the progress of construction. That change may prompt developers to abandon presale projects, which account for a sizable amount of housing transactions.
TT: Is IFRS to blame for foreign insurance firms exiting the local market in recent years?
Fuh: Not really. The new -accounting rules have limited impact, to my knowledge. Many foreign financial firms suffered during the global financial crisis and accepted government bailouts. In return, they promised to cut costs by downsizing business, disposing of unprofitable operations and focusing on business they are familiar with. One of our clients had no choice but to sell its life insurance unit here and concentrate on banking operations.
Taiwan is small, but the insurance market is the 12th-largest in the world with great growth potential.
TT: What would you suggest the government do to make the adoption of IFRS as smooth as possible?
Fuh: The government should refrain from too much intervention and be more consistent as it seeks to introduce IFRS. The decision to exempt Taiwan High Speed Rail Corp (台灣高鐵) from recording more than NT$40 billion (US$1.39 billion) in special shares as a liability is one case in point. The exception, intended to keep the firm afloat, violates the spirit of the idea that its books should accurately reflect the firm's financial condition.
Comments will be moderated. Keep comments relevant to the article. Remarks containing abusive and obscene language, personal attacks of any kind or promotion will be removed and the user banned. Final decision will be at the discretion of the Taipei Times.