Cardin makes splash in China
The deck of a decommissioned Soviet aircraft carrier docked on China's coast seems an unlikely place to make a fashion statement, but to Pierre Cardin, the backdrop made perfect sense.
The feisty 88-year-old French designer, who has said he wants to sell his massive style empire, unveiled a romantic collection for this year on the former battleship in an ode to peace — and perhaps to attract deep-pocketed Chinese investors.
Dozens of male and female models strutted down a catwalk lined with fighter jets in everything from shimmery silver flight suits to sassy mini-dresses in bold colors with keyhole cut-outs that recalled the couturier's 1960s heyday.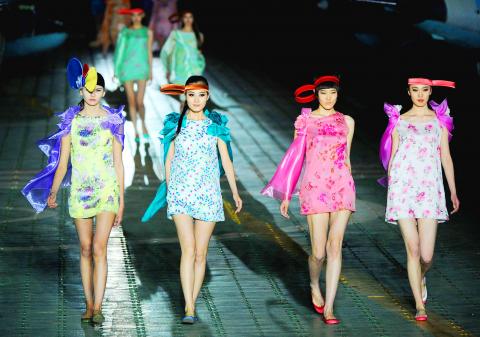 Models show off creations from Pierre Cardin during his fashion show on board former Soviet aircraft carrier Kiev at the Tianjin Binhai Aircraft Carrier Theme Park outside Tianjin, China, on Friday.
Photo: AFP
In a bit of theater to end Friday night's 30-minute style parade, a model in a red sequined jumpsuit emerged from a helicopter that landed on the deck and took Cardin's hand for a curtain call, to the applause of hundreds of guests.
"If you want to be a great designer, pretty dresses are not enough," Cardin told reporters before the event in the port city of Tianjin. "You must provoke your audience — amaze and even surprise them."
During a career that has spanned more than six decades, Cardin has certainly been a trailblazer — he was one of the first designers to bring Western style to Asia and one of the first to develop brand licensing.
Earlier this month, he told the Wall Street Journal he was ready to sell his label, as long as he retains artistic control — and gets the 1 billion euros (US$1.4 billion) he insists the company is worth.
"If they don't have the means, they don't have the right to buy it. Simple as that," an unapologetic Cardin told the press conference.
The designer said he had so far received several offers for his label, including from Chinese buyers, but declined to offer any specifics on who may be in the running.
When asked if he would be keen to see his company fall into the hands of a Chinese firm, he replied: "China — why not?"
Analysts say it could be a perfect fit.
"Right now, Chinese investors are deep-pocketed and they're looking to acquire Western brands that they can bring back to China," said Shaun Rein, managing director of China Market Research Group in Shanghai. "It's too difficult to build a brand from scratch."
Sam Mulligan, director of the market research firm Data Driven Marketing Asia, agreed.
"The big market for this brand in the future is going to be this market. If there is a company that would understand this market better than an European company, it would be a Chinese company," Mulligan said.
In 2009, Cardin sold 32 textile and accessory licenses in China to Jiangsheng Trading Co (健生貿易) and Cardanro (卡丹路) for 200 million euros — evidence, perhaps, of the brand's enduring cachet in the country of 1.3 billion people.
Officials at Pierre Cardin would not give the company's total revenue figures for China, but say they see about 20 percent annual revenue growth in the world's -second-largest economy — the fastest--growing market for luxury goods.
Comments will be moderated. Keep comments relevant to the article. Remarks containing abusive and obscene language, personal attacks of any kind or promotion will be removed and the user banned. Final decision will be at the discretion of the Taipei Times.