Port handler sees gold amid turmoil
RISK RESISTANT: Philippine port operator ICTSI has a healthy understanding of the temporary nature of political turmoil, and has kept ports open despite risk
Violent protests in the Middle East may have shaken the world economy, but Philippine port operator International Container Terminal Services Inc (ICTSI) sees opportunity amid the turmoil.
ICTSI, run by billionaire Enrique Razon, is one of only a few Philippine companies to have become a successful global player and it has done so largely by boldly going where others may feel trepidation.
"What is happening in the Middle East, as far as it affects the global economy, has an impact ... but in the long term, I think it is a good thing," Razon said at a recent stockholders' meeting, outlining his company's strategy. "These countries who are toppling their dictators will need to restructure, go into privatization, open up their economies."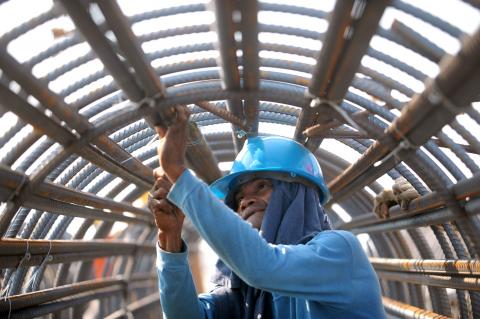 A worker checks steel bars at the International Container Terminal Services Inc at a port in Manila, Philippines, on April 18.
Photo: AFP
"There will be a lot of opportunities there ... and hat is our thrust," he added.
Aside from dominating in the Philippines, ICTSI manages ports in countries as diverse as Syria, Georgia, Mexico, Colombia, Brazil, Croatia, Japan, Brunei and Madagascar.
It also has operations in the US and China, while it has just signed a contract to manage a port in Tamil Nadu state, India, which will give it a presence in 17 countries.
Its global expansion strategy helped give ICTSI a net profit of US$98.3 million last year, up 79 percent from 2009, with all its overseas subsidiaries showing growth, according to Razon.
Chief researcher for stockbrokerage CitisecOnline April Lee-Tan said ICTSI had found a winning strategy in targeting relatively small and developing markets, after making its first foray overseas in 1995 in Argentina.
"The beauty of being in a smaller country is the huge -potential for growth because it is not a mature market yet so they earn higher yields," she said, adding that ICTSI had a reputation for getting things done in tough places.
"They try to diversify by acquiring a lot of ports. They don't just go to one country, they go to several and they have shown they have the track record of successfully executing their plans," she said.
ICTSI sometimes takes over and manages an existing port, but in other cases actually builds and develops the facility as part of its concession.
Company officials acknowledge that ICTSI is not in the same league as the global port--handling giants, such as Hong Kong's Hutchison Port Holdings (和記港口控股信托) and Singapore's PSA International.
However, Lee-Tan said that no other Philippine company in any sector had set up operations in such a wide variety of countries as ICTSI.
"No one has gone to places like Madagascar. They've gone to places no one else would think of," she said.
ICTSI senior vice president Ed Abesamis said the company's origins in the Philippines, an extremely poor and corrupt country that has long endured political chaos, had prepared it to operate amid uncertainty overseas.
"Coming from a developing country, we have a healthier appreciation at how to look at temporary political noise and go through it and say, this will pass ... and business will be possible in the long term," he said.
So far, ICTSI ports have not been seriously disrupted by various political crises around the world.
Its port in Georgia closed down for a week during the brief war between Georgia and Russia in 2008, but quickly resumed operations, Abesamis said.
And its port in Syria has not been affected by the current deadly unrest there, he added.
Speaking at the shareholders' meeting, Razon said ICTSI was always on the lookout for another opportunity overseas and could spend more than the US$456 million earmarked for capital expenditures this year if an opportunity arose.
"Definitely, if something interesting comes up, we will make a move. We look at many things," he said.
While Razon would not give specifics, Abesamis said ICTSI was looking at establishing a presence in Africa.
"That continent is waking up," he said.
Comments will be moderated. Keep comments relevant to the article. Remarks containing abusive and obscene language, personal attacks of any kind or promotion will be removed and the user banned. Final decision will be at the discretion of the Taipei Times.