Tseng gets first local sponsorship deal
LONG WAIT: The deal, worth perhaps US$500,000 a year, comes three years after Tseng broke the top 10 and after Wu Chia-ching took Chinese citizenship
Taiwan's Yani Tseng (曾雅妮), the world's top-ranked player in women's golf, signed her first sponsorship deal with a Taiwanese company yesterday, more than four years after turning pro and nearly three years since cracking the top 10.
One of the most recognizable personalities in women's golf, Tseng added Taiwan-based Taishin Financial Holding Co (台新金控) to her growing list of sponsors, after signing a deal with Beijing-based Reignwood Group (華彬集團) on April 26.
The 22-year-old signed the deal with Taishin chairman Thomas Wu (吳東亮) in front of Vice President Vincent Siew (蕭萬長), Golf Association of the ROC head Hsu Tien-ya (許典雅) and her parents, among others.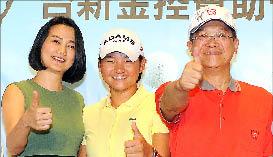 Golfer Yani Tseng, center, is flanked by Thomas Wu, chairman of Taishin Financial Holding Co, right, after signing a contract in Taipei yesterday.
Photo: Wang Min-wei, Taipei Times
Tseng's inability to secure a major local sponsor was somewhat surprising considering she broke into the world top 10 in June 2008 after winning her first major, the LPGA Championship.
As the head of the first Taiwanese enterprise to sponsor Tseng, Wu said he hoped his company's move would encourage more local companies to follow suit.
Wu refused to disclose the amount of the deal and Tseng said she was not aware of the content of the contract, but it was widely reported that she would be paid about US$500,000 a year to endorse Taishin and put the company's logo on her golf bag.
Tseng's two-year contract with China's Reignwood Group was also for a reported US$500,000 to US$600,000 a year.
With the addition of the new sponsor, Tseng is expected to earn US$2 million in endorsement fees this year.
The recent sponsorship deal came after Taiwanese top pool player Wu Chia-ching (吳珈慶) adopted Chinese nationality to pursue what he believed were better financial opportunities in his sport in China, stirring up a heated debate in Taiwan over the country's difficult environment for professional athletes.
Asked about Wu's move, Tseng said: "I definitely hope the government and Taiwan's organizations can give more support to our sports, since we are still not quite well-developed."
Comments will be moderated. Keep comments relevant to the article. Remarks containing abusive and obscene language, personal attacks of any kind or promotion will be removed and the user banned. Final decision will be at the discretion of the Taipei Times.