China's Minmetals eyes bid for Australian mining firm
RESOURCES: The US$6.5 billion offer by the Hong Kong unit of China's largest metals trader will give it access to Equinox Minerals' operations in Zambia and Saudi Arabia
China's Minmetals Resources (中國五礦資源) said yesterday it would offer C$6.3 billion (US$6.5 billion) for copper miner Equinox Minerals, in what would be the biggest Chinese takeover of an Australian resources company.
The offer by the Hong Kong unit of China's largest metals trader would see Minmetals pay C$7 a share for Equinox, which the Chinese firm said was 23 percent more than its closing price in Toronto on Friday.
Minmetals currently owns 4.2 percent of Equinox. Minmetals shares surged 2.44 percent to close at HK$6.72 in Hong Kong trading.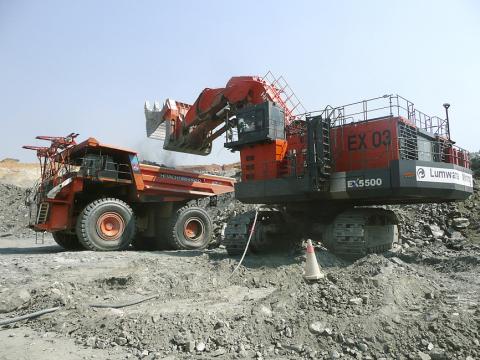 An undated handout photo shows a truck loaded with rocks at an Equinox copper mine in Lumwana, Zambia.
Photo: Reuters
The deal, which Minmetals expects to be completed by the middle of this year, will give it access to Equinox's operations in Zambia and Saudi Arabia.
"Our offer for Equinox aligns with MMR's strategy for growth, enhancing our global production portfolio," Minmetals chief executive Andrew Michelmore said.
"The acquisition significantly expands and extends MMR's production profile of its operations to beyond 2030 and more than doubles MMR's exposure to the attractive fundamentals of the copper market," the company said.
However, Minmetals said the offer was conditional on Equinox dropping a C$4.8 billion bid for Canada's Lundin Mining, which Michelmore said would be detrimental to Equinox.
Equinox said it would discuss Minmetals' proposal before commenting.
"The board of directors of Equinox will be meeting to consider this unsolicited proposal, and will comment further following careful consideration of the terms and implied value for Equinox," it said in a brief statement.
Equinox is listed in both Canada and Australia and any deal will require the approval of regulators in both countries.
If the deal goes ahead it will be twice the size of the US$3.2 billion China's Yanzhou Coal (兗州煤業) paid for Australian miner Felix Resources in December 2009.
It is also the latest move by a Chinese state-owned firm to get a foothold in Australia's mining sector as it looks to tap the continent's huge natural deposits to feed its ever-growing economy.
However, Beijing's interest has sparked intense debate in Australia on whether to allow Chinese state-owned entities to increase their control over the country's resources.
An attempted US$19.5 billion investment in Rio Tinto by Aluminum Corp of China (中國鋁業公司), or Chinalco, in 2009 fell apart amid bitter political opposition and accusations that the government was "selling Australia".
Minmetals is 75 percent owned by state-owned China Minmetals Corp (中國五礦集團公司).
Minmetals said the takeover of Equinox would create a company that is the 14th-largest copper producer in the world, based on forecasts for production in 2013.
Commodity prices have hit record highs, partly on heavy demand from China, sparking a series of mergers and acquisitions among mining companies.
Copper is being propelled by tight global supplies of the industrial metal, which is used in plumbing, heating, electrical and telecommunications wiring.
Comments will be moderated. Keep comments relevant to the article. Remarks containing abusive and obscene language, personal attacks of any kind or promotion will be removed and the user banned. Final decision will be at the discretion of the Taipei Times.