China trade balance swings to deficit
ROAD TO CONSUMPTION: The trade deficit of US$7.3 billion compares with a surplus of US$7.61 billion in February last year, as China restructures its economy
China said yesterday it had returned to a trade deficit last month for the first time in nearly a year, as the world's No. 2 economy tries to wean itself off reliance on exports.
The trade deficit of US$7.3 billion — the country's first since March last year and only the second in nearly seven years — compared with a surplus of US$6.45 billion in January, customs authorities said in a statement.
China had a surplus of US$7.61 billion in February last year.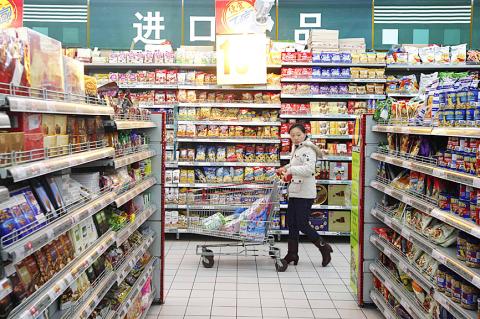 A woman shops in the imported products aisle at a supermarket chain store in Shanghai yesterday.
PHOTO: REUTERS
Customs blamed a sharp slowdown in exports on the Lunar New Year holiday, which fell early last month, while imports remained strong because of both increased shipments of oil and other commodities, and their rising prices.
Analysts, however, said the -result was likely a blip on the radar screen that would not silence calls from abroad for a stronger yuan.
Exports rose just 2.4 percent last month from a year earlier to US$96.74 billion and imports gained 19.4 percent to US$104.04 billion. Analysts had expected a surplus last month of US$3.9 billion, according to Dow Jones Newswires.
In January, exports rose 37.7 percent, while imports grew 51 percent.
Analysts said exports and imports typically see strong growth ahead of the festive season when factories crank up production to meet demand, and then slow in the following month.
"This is not a big surprise," UBS economist Wang Tao (王濤) told reporters, adding that the trade deficit would be "temporary" because China tends to import more at the beginning of the year.
"Exports tend to be very strong at the end of the year," she said, adding that the data would not dampen calls from China's key trade partners in the US and Europe for a stronger currency.
Morgan Stanley economist Wang Qing (王慶) said the combined January and February trade data better reflected the "big picture," showing exports grew 21.3 percent year-on-year and imports were up 36 percent. The combined two-month trade deficit stood at US$890 million, customs authorities said.
China recorded a hefty trade surplus of US$183.1 billion last year compared with US$196.1 billion in 2009. Beijing is under pressure to loosen its grip on the yuan, which critics say is grossly undervalued and gives its exporters an unfair trade advantage.
Meanwhile, China's inflation could hit 5 percent this year because of soaring commodity prices and rising wages, a central bank advisor has warned, according to state media yesterday.
However, the advisor, Li Daokui (李稻葵), was quoted by the China Daily as saying inflation was likely to stay below that level if agricultural production was "reasonably healthy and international commodity prices don't rise too high."
Inflation remained stubbornly high in January, with the consumer price index rising 4.9 percent year-on-year, despite a series of measures taken to dampen price rises, which have been driven by soaring food costs.
The figure was 4.6 percent in December after a more than two year high of 5.1 percent in November.
"The main cause of inflation is cost increases, that is, rising commodity prices — the cost of imported raw materials — and accelerating wage growth," Li said.
He also said that surging oil prices had weighed on the world's second-largest economy, which imports as much as 55 percent of the oil it consumes.
The "worst scenario" for this year would be if oil prices soared to US$130 a barrel, he said, adding that the government and Chinese companies were working on plans to hedge against further increases in international commodity prices.
Comments will be moderated. Keep comments relevant to the article. Remarks containing abusive and obscene language, personal attacks of any kind or promotion will be removed and the user banned. Final decision will be at the discretion of the Taipei Times.