Apple buying LG, Sharp, Toshiba displays: iSuppli
Apple Inc, the maker of the iPhone and iPad, probably agreed to buy almost US$4 billion of displays from LG Display Co, Toshiba Mobile Display Co and Sharp Corp over two years, according to IHS Inc's iSuppli.
Apple last month said it would spend about US$3.9 billion as prepayment for components from three companies, without specifying the suppliers or the parts.
The investment is likely to be in displays made by LG, Toshiba's screen unit and Sharp, market research firm iSuppli said, citing a study of Apple's supplier relations, licensing rights and technology.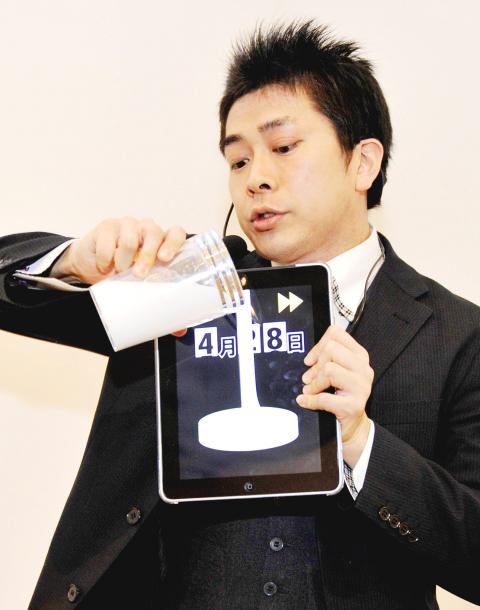 Japanese magician Shinya Uchida "pours" milk into an Apple iPad to make a digital cheese at the press preview of the 14th Japan Media Arts Festival at Tokyo's National Arts Center on Tuesday. Apple Inc is seeking to secure supplies of iPhone and iPad displays amid intensifying competition.
Photo: AFP
The Cupertino, California-based electronics maker is seeking to secure the supply of high-resolution displays for iPhones and iPads amid intensifying competition from smartphones and tablet PCs running Google Inc's Android software.
Apple's investment may make it more difficult for smaller competitors to procure screens for their devices, iSuppli said.
"The user interface, particularly the display and touch screen, has become the most critical competitive differentiator for tablets and smartphones," said Vinita Jakhanwal, director for small and medium displays at IHS. "Competition among original equipment manufacturers for available supplies of high-end small and medium displays has reached a fever pitch."
Steve Dowling, an Apple spokesman, declined to comment beyond the remarks made last month on the earnings conference call. LG Display spokesman Son Young-jun and Toshiba spokesman Keisuke Ohmori declined to comment. Miyuki Nakayama, a spokeswoman at Sharp, didn't immediately return calls to the office and mobile phones.
Apple is targeting the three companies because of their ability to produce displays using in-plane switching and low-temperature polysilicon technologies, which allow for higher resolution in small screens, iSuppli said.
The competing active-matrix organic LED, or AMOLED, screens are made only by LG Display and Samsung Electronics Co, the researcher said.
The iPad maker has previously entered into long-term supply agreements with manufacturers to secure key components. The company in July 2009 said it made a US$500 million prepayment for flash memory chips from Toshiba.
Comments will be moderated. Keep comments relevant to the article. Remarks containing abusive and obscene language, personal attacks of any kind or promotion will be removed and the user banned. Final decision will be at the discretion of the Taipei Times.