Taiwanese comic book artists urged to build a recognizable global brand
Representative to France Michel Lu (呂慶龍) on Saturday encouraged Taiwanese comic book artists to build their own image and brand name in the international market.
Lu urged the artists to strive harder to put themselves on the world's map with "Manhua" masterpieces, which he said would be distinguishable from Japan's globally known Manga.
Lu made the remarks at a press conference in the southwestern French town of Angouleme, during which two Art Nouveau comic book artists from Taiwan — Chen Hung-yao (陳弘耀) and Lee Lung-chieh (李隆杰) — were introduced.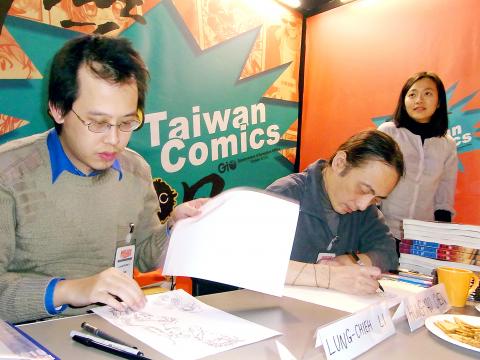 Comic book artists Lee Lung-chieh, left, and Chen Hung-yao draw comic strips at the Taiwanese booth at a comic book festival in Angouleme, France, on Thursday.
Photo: CNA
Chen and Lee were taking part in the 38th Angouleme International Comics Festival that opened on Thursday. The festival is a -major influence in the world's comic book and animation industry.
Chen and Lee were present every day at the Taiwanese booth — set up by the Government Information Office — over the four-day event, autographing their books and introducing their work though multimedia presentations.
They also did some on-the-spot drawings, often attracting great attention from visitors to the festival.
A French graphic teacher, who spent a lot of time at the Taiwanese booth, said that quite often the everyday lives of Taiwanese comic book artists were reflected in their work, which was a unique characteristic.
Chen and Lee have been talking with publishers about the possibility of having their work translated into other languages. So far, two French publishing companies have expressed interest in Chen's work.
Meanwhile, a Dutch publishing company has secured the copyright in the Netherlands for The Window, the latest comic book by Taiwanese artist Sean Chuang (莊永新).
Chuang, a commercial film director, spent 10 years working on The Window, in which he pays homage to French comics and European scenery. The book was the winner of the best comic award in Taiwan in 2009.
Angouleme is the center of the French comic industry and its annual festival, now in its 38th year, is the largest of its kind in Europe.
The focus of this year's festival was the Hong Kong comic industry. The featured exhibition, titled "Kaleidoscope — History of Hong Kong Comics," highlighted the work of Hong Kong comic artists from the 1960s to the present.
Comments will be moderated. Keep comments relevant to the article. Remarks containing abusive and obscene language, personal attacks of any kind or promotion will be removed and the user banned. Final decision will be at the discretion of the Taipei Times.