Commodities end golden year in rampant fashion
Copper prices struck all-time highs and silver hit the highest level in 30 years during a shortened trading week as commodities ended a record-breaking year in rampant style.
It has been a remarkable year for trading of raw materials, with gold futures also striking a record peak as the precious metal benefited from its status as a safe-haven investment in times of economic uncertainty.
BASE METALS: Copper hit US$9,675 a tonne this week — its highest level on record.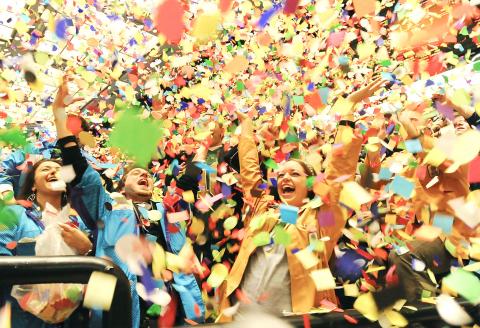 Traders celebrate with confetti on the final day of trading for 2010 at the CME Group Chicago Board of Trade in Chicago, Illinois, on Friday.
Photo: EPA
The metal used in electrical wiring and pipes — has been winning support from strong Asian demand and supply disruptions.
Other notable price risers across the base metals complex last year were nickel, which soared 31 percent and aluminum which increased by one-tenth.
By late Friday on the London Metal Exchange, copper for delivery in three months jumped to US$9,650.50 a tonne from US$9,339.50 a week earlier.
Three-month aluminum climbed to US$2,468.25 a tonne from US$2,446.
PRECIOUS METALS: Silver's rally this week was joined by palladium, which ended the year by reaching the highest level since 2001.
Silver reached a 30-year high of US$30.90 an ounce on Thursday after main producer Peru announced a drop in output. The metal has soared by about 83 percent last year, aided also by the rise of sister metal gold, which soared to a record high of US$1,431.25 an ounce last month thanks to fears over the eurozone debt and deficit crisis.
By late Friday on the London Bullion Market, gold advanced to US$1,413.35 an ounce from US$1,380.50 a week earlier.
Silver climbed to US$30.63 an ounce from US$29.07.
On the London Platinum and Palladium Market, platinum increased to US$1,748.75 an ounce from US$1,725.
Palladium gained to US$796.25 an ounce from US$764.
OIL: Oil prices fell as US data showed the country's crude stocks had declined less than expected.
By Friday afternoon on London's Intercontinental Exchange, Brent North Sea crude for delivery in February dipped to US$93.08 a barrel from US$93.46 a week earlier.
On the New York Mercantile Exchange, Texas light sweet crude for February dropped to US$89.71 a barrel from 91.51 the previous week.
COCOA: Cocoa prices fell as forecasts of strong supplies helped to offset fears of rising unrest in Ivory Coast, the commodity's biggest producer.
Cocoa futures reached 33-year peaks last year following strong buying from speculators.
By Friday on LIFFE, London's futures exchange, cocoa for March slipped to £2,013 a tonne from £2,022 a week earlier.
On the New York Board of Trade (NYBOT), cocoa for delivery in March dropped to US$3,007 a tonne on Thursday from US$3,020 a week earlier.
COFFEE: Coffee prices rose at the end of a year in which they have reached the highest levels in 13 years in New York owing to tight Brazilian supplies.
By Thursday on NYBOT, Arabica for delivery in March climbed to US$2.3850 a pound (0.45kg) from US$2.3590 a week earlier.
On LIFFE, Robusta for March gained to US$2,077 a tonne by Friday from US$1,998 a week earlier.
GRAINS AND SOYA: Soya and maize prices hit the highest points since August 2008 amid drought in Argentina.
By Thursday on the Chicago Board of Trade, March-dated soyabean meal climbed to US$13.76 a bushel from US$13.60 a week earlier. Maize for delivery in March gained to US$6.16 a bushel from US$6.14. Wheat for March increased to US$7.84 from US$7.83.
Comments will be moderated. Keep comments relevant to the article. Remarks containing abusive and obscene language, personal attacks of any kind or promotion will be removed and the user banned. Final decision will be at the discretion of the Taipei Times.