Japan forecasts GDP growth to slow next year
Japan's economic growth will slow in the fiscal year to a real 1.5 percent from 3.1 percent this year on soft private consumption and the ebbing impact of stimulus measures, the government said yesterday.
In its outlook report, the Cabinet Office also said consumer prices will remain unchanged in the year starting April. Recent year-on-year falls in the consumer price index will halt in the middle of next year, it said, but suggested this would not represent the defeat of chronic deflation in the economy.
The growth projection for the current year was upwardly revised to 3.1 percent from an earlier estimate of 2.6 percent in real, or price-adjusted, terms.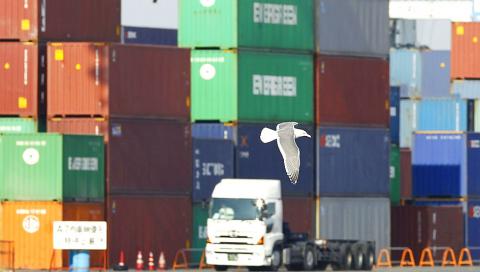 A seagull flies in front of a container area yesterday at an industrial port in Yokohama, south of Tokyo. Japan's export growth picked up last month for the first time in nine months due chiefly to the yen's pullback from 15-year highs, but analysts say signs of softening overseas demand cloud the outlook.
PHOTO: REUTERS
Japan's economy grew 4.5 percent in the July-to-September quarter, amplified by a rush by car buyers to use expiring subsidies and smokers who stocked up on cigarettes ahead of a tax hike during the period. The hottest summer on record also drove sales of items such as air conditioners, helping spur growth in the quarter.
Private consumption accounts for around 60 percent of GDP. However, analysts warn of a contraction in the fourth calendar quarter as the removal of such one-off factors highlights Japan's exposure to a weakening export picture and slow domestic demand.
Recent data have shown a slump in industrial output, especially among carmakers, as well as weakening consumer confidence as such incentive programs come to an end.
Japan's export growth accelerated for the first time in nine months last month, data showed yesterday, but the rise of 9.1 percent from a year earlier came in short of expectations amid fears of a looming economic slowdown.
While exports have expanded throughout the year, the rate of growth has steadily fallen as overseas demand cooled and the yen rose to 15-year highs. In February, exports jumped more than 45 percent. By October, that had slid to less than 8 percent.
The central bank on Tuesday kept interest rates on hold at virtually zero and maintained its cautious assessment of the economy. The recovery "seems to be pausing" and exports are flat, it said.
Companies are worried too. A key central bank survey last week showed that business sentiment fell for the first time in seven quarters.
However, the government forecast unemployment to continue to slowly improve, with the jobless rate expected to fall in the fiscal year starting April to 4.7 percent from 5 percent currently.
Comments will be moderated. Keep comments relevant to the article. Remarks containing abusive and obscene language, personal attacks of any kind or promotion will be removed and the user banned. Final decision will be at the discretion of the Taipei Times.