Strong yen hurts Japan confidence
UNCERTAINTY: Japanese companies are bracing for tough times ahead after quite a few months of post-recession growth, with a strong yen hurting exports
Business sentiment in Japan has fallen for the first time in seven quarters as worries about a persistently strong yen and slowing exports hit corporate confidence.
The Bank of Japan's quarterly tankan survey of business sentiment released yesterday showed that the main index for large manufacturers fell to five this month from eight three months ago.
The figure represents the percentage of companies saying business conditions are good minus those saying conditions are unfavorable, with 100 representing the best mood and minus 100 the worst.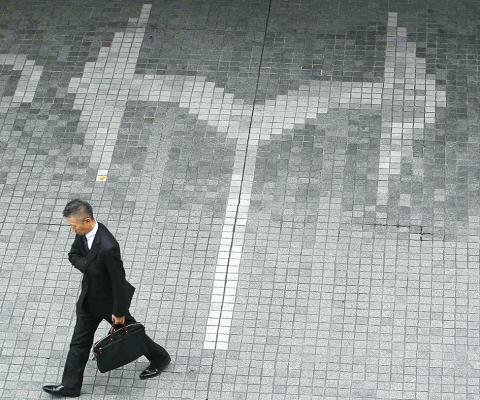 A man walks across a parking lot at an office building in Tokyo yesterday. Japanese manufacturers' business sentiment worsened for the first time in nearly two years in the three months to this month, the Bank of Japan's tankan survey showed, as they felt the pinch from a strong yen and slowing exports.
PHOTO: REUTERS
The result from the latest tankan — a closely watched barometer of the country's economic health that helps the central bank guide monetary policy — is slightly better than Kyodo news agency's average market forecast for a reading of three.
The index had climbed for six straight quarters as Japan mounted a solid recovery from deep recession, but a strong yen and easing global demand are battering exporters, which have been the main drivers of Japan's growth. Automakers like Toyota Motor Corp are also feeling the impact from the expiration of government subsidies for fuel efficient cars.
"The improvement that began in March 2009 ... came to an end, giving way to deterioration, albeit small," Goldman Sachs economist Chiwoong Lee in a note to clients said.
Readings varied among sectors, he said. Metals and oil companies, which benefited from higher commodity prices, reported improving sentiment, but the mood at automakers tumbled.
The latest result suggests that companies are bracing for tougher times ahead. They predict confidence will keep deteriorating, with large manufacturers saying they expect the index to be in negative territory for the first time since March.
However, companies tend to be cautious when the economy is staging a recovery, said Masamichi Adachi, senior economist at -JPMorgan Securities Japan. He doesn't think the tankan's prediction for business confidence to become negative will happen.
The Bank of Japan surveyed a total of 11,183 companies between Nov. 11 and Tuesday. Almost 99 percent responded.
Its next policy board meeting is scheduled for Monday and Tuesday.
Comments will be moderated. Keep comments relevant to the article. Remarks containing abusive and obscene language, personal attacks of any kind or promotion will be removed and the user banned. Final decision will be at the discretion of the Taipei Times.