AIG readies payback of key bailout
TAXPAYER PROFIT: With repayment of a loan from the Federal Reserve Bank of New York, the Treasury will be able to sell off its stake in the insurance firm
Insurance conglomerate American International Group Inc (AIG) is taking a key step toward paying off a bailout that was at one point worth US$182 billion — the largest of the financial crisis.
The company said in a public filing on Wednesday that it would repay a loan from the Federal Reserve Bank of New York. AIG said that would clear the way for the US Treasury to sell off the government's stake.
Treasury's stake in AIG will temporarily rise from roughly 80 percent to 92 percent as part of the deal.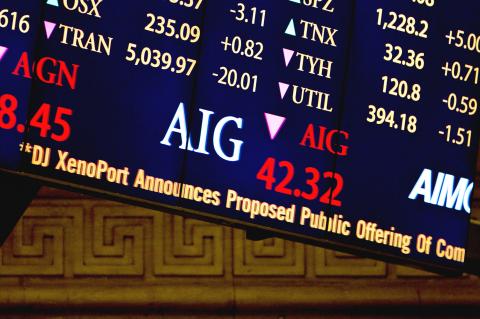 The American International Group Inc ticker is shown on an electronic trading board at the New York Stock Exchange after the closing bell in New York on Wednesday.
PHOTO: BLOOMBERG
During the height of the crisis, the New York Fed provided as much as US$91 billion in credit to AIG. As of early this month, AIG owed about US$21 billion.
Treasury officials would not comment on the government's planned sales of AIG shares. They said the shares would be sold to maximize taxpayer profits and minimize the risk of loss.
"Today's announcement is a milestone in the government's long-stated efforts to exit our investments in private companies as soon as practical while protecting taxpayers," US Treasury Acting Assistant Secretary for Financial Stability Tim Massad said in a statement. "When all is said and done, we believe taxpayers will recover every dollar invested in AIG and stand a good chance of making a profit."
For months, the government expected to take massive losses on its investments in AIG. The nonpartisan Congressional Budget Office said last month that the rescue will cost taxpayers US$14 billion.
Wednesday's filing moves the government closer to what Treasury officials expect will be a multibillion-dollar profit.
AIG and Treasury first described the plan in September.
Wednesday's filing marks the official signing of the deal by AIG, the New York Fed and Treasury.
The filing "marks an important step forward in our progress toward completely repaying taxpayers. We remain committed to executing the steps and meeting all conditions in the agreement as soon as possible," AIG said in a statement.
Treasury will convert its stake into about 1.66 billion shares, worth US$70.09 billion, based on Wednesday's closing price. When the shares are sold, the proceeds will pay off the Treasury's current US$47.5 billion investment in AIG, plus another US$22 billion that AIG will borrow to settle its obligations to the New York Fed.
The deal can't be completed until AIG proves its strength by raising money from private investors and regaining a top rating from credit agencies.
"We hope to be able to go to the market with a public offering of AIG this spring, but we have work to do to make that happen," AIG said in a statement. "We are working as diligently as we can to achieve this as quickly as possible, subject to market conditions."
Trading of AIG shares was halted on Wednesday afternoon as news of the deal spread. AIG shares plummeted on Wednesday by US$1.73, or 4 percent, to US$42.22 before trading was halted.
Comments will be moderated. Keep comments relevant to the article. Remarks containing abusive and obscene language, personal attacks of any kind or promotion will be removed and the user banned. Final decision will be at the discretion of the Taipei Times.