Nan Shan Insurance bids draw protest
'AIG, PLEASE STAY': Demonstrators called for careful review of the bidders' insurance operation experience and long-term commitment to the insurance business
Scores of Nan Shan Life Insurance Co (南山人壽) employees and policyholders yesterday staged a demonstration outside the Financial Supervisory Commission (FSC), asking the regulator to help persuade the US parent, American International Group Inc (AIG), to retain its Taiwan unit.
The petition came amid local media reports that AIG officials are meeting potential buyers in Hong Kong to discuss plans to sell a 97.57 percent stake in Nan Shan for the second time after Taiwan thwarted the first attempt on Aug. 31.
The cash-strapped US insurance giant is expected to pick a buyer by the end of this year to pay down debts to the US government.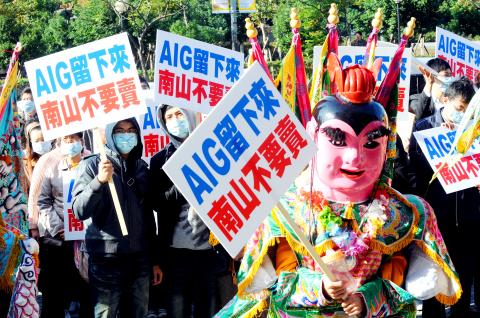 Nan Shan Life Insurance employees and policyholders demonstrate outside the Financial Supervisory Commission in Taipei yesterday, calling on the commission to help persuade American International Group (AIG) to keep its Taiwan unit. The banners read "AIG, Please Stay, Don't Sell Nan Shan."
PHOTO: LO PEI-DER, TAIPEI TIMES
"AIG, Please Stay, Don't Sell Nan Shan," the demonstrators chanted before handing a petition to FSC insurance official Wu Chung-chuan (吳崇權).
Lawrence Lee (李勇助), a Nan Shan sales agent who led the petition, voiced concern the planned sale would compromise the rights of almost 40,000 employees and 4 million policyholders.
The nation's three largest financial groups, Cathay Financial Holding Co (國泰金控), Fubon Financial Holding Co (富邦金控) and Chinatrust Financial Holding Co (中信金控) have all expressed interest in acquiring Nan Shan.
A Taiwanese consortium led by Ruentex Group (潤泰集團) also made known its intent to buy the insurer by teaming up with footwear products maker Pou Chen Corp (寶成工業), while Primus Financial Holdings Ltd (博智金融), the previous Hong Kong winning bidder, reportedly is making a comeback bid by joining forces with Goldsun Development & Construction Co (國產實業) of Taiwan.
Lee said he and colleagues may lose their jobs if any of the three Taiwanese financial services providers wins Nan Shan because they will implement restructuring measures and rely on their banking arms to sell policies rather than sales agents.
The demonstrators yesterday also questioned Ruentex Group chairman Samuel Yin's (尹衍樑) sincerity in running an insurance company, saying he had twice sold his stake in an insurance company to gain profits. Yin reportedly offered the highest bid of NT$90 billion (US$2.95 billion) for Nan Shan, higher than the previous winning bid of US$2.15 billion offered by a Hong Kong consortium last year, the Chinese-language Economic Daily News reported.
The newspaper said Chinatrust Financial offered NT$75 billion, and the Commercial Times reported that Cathay and Fubon put in bids of about US$2.1 billion and US$2.5 billion, respectively.
None of companies were available for comment on the figures or talks with AIG in Hong Kong.
AIG reportedly prefers Ruentex out of price concerns or Primus in light of close ties, according to the Economic Daily News, adding that AIG's legal executive Andrew Borodach has arrived in Hong Kong to meet with potential bidders.
Lee and Nan Shan employees urged FSC to review the bidders' qualifications, as the two do not have insurance -operation -experience or long-term commitment.
The regulator has said the buyer must also demonstrate capital increase capability and comply with Taiwanese rules forbidding Chinese capital.
Comments will be moderated. Keep comments relevant to the article. Remarks containing abusive and obscene language, personal attacks of any kind or promotion will be removed and the user banned. Final decision will be at the discretion of the Taipei Times.