Modern threats to Southeast Asia's colonial heritage
When Cambodia tore down a -century-old school in the capital this year, conservationists bemoaned the loss of yet another piece of history in former French Indochina in the rush to modernize.
French colonial architecture — with its shuttered windows, grand balconies and pitched tiled roofs — for decades defined the look of cities in Cambodia, Laos and Vietnam, even after the French pulled out of Indochina in 1954.
But now, hundreds of historic buildings across the region are being knocked down as governments capitalize on rising land prices and attempt to create eye-catching skylines.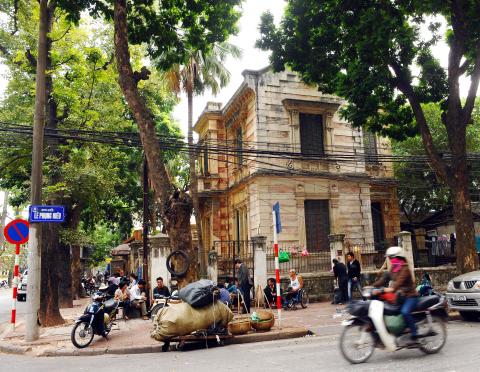 People sit outside a poorly maintained French colonial-era villa in downtown Hanoi, Vietnam, on Nov. 19.
Photo: AFP
"What I see in Phnom Penh is little — or at worst no — heritage protection of significant buildings. I see the disappearance of old French colonial buildings," Cambodia-based architectural historian Darryl Collins said.
"It's a great pity because I think in time it will be regretted that so many of these buildings have gone," the Australian said.
Built in 1908, the Ecole Professionnelle — Cambodia's oldest training school — was razed in February, the latest high-profile casualty in the impoverished country's quest for modernity.
The Cambodian capital, or the "Pearl of Asia" as it was once known, used to be thought of as one of the loveliest cities in the region thanks to its French-style wide avenues, carefully--manicured gardens and stately homes.
Much of that charm, however, is disappearing at an alarming rate, say conservationists.
They estimate that as many as 30 percent of Phnom Penh's colonial buildings — survivors of the brutal Khmer Rouge regime and decades of civil war — have been demolished in the past 15 years.
While many Cambodians in the capital prefer to live and work in modern buildings, it's not just historians who are upset by the transformation.
"We should not destroy the French buildings. We should renovate them so that they look nice again," said Chheng Moeun, 76, who sells soft drinks outside a crumbling colonial villa near Phnom Penh's Royal Palace.
The demolitions are being driven in part by the kingdom's economic growth over the past decade and developers are eager to build apartments and office blocks in the prime locations that many of the colonial buildings occupy.
Across the border, fellow former French colonies Laos and Vietnam are also struggling to maintain their colonial dwellings, said Collins, who blames booming real estate prices.
"It's a short-term pattern of thinking," he said, the main consideration being "sheer profit."
Hoang Dao Kinh, a specialist in the preservation of Hanoi's cultural and historical heritage, said out of more than one thousand French villas in the Vietnamese capital, only a few hundred remain in the original colonial style.
And while the country has made efforts to safeguard old buildings, Kinh said the application of a 2001 law on the preservation of such sites "has met with many difficulties."
However, attempts to rescue some of France's architectural leftovers have not been completely in vain, he added, pointing to Vietnam's Dalat city as a noteworthy example.
In neighboring Laos, the picturesque northern town of Luang Prabang with its well-kept colonial homes has proved a major tourist draw, and the government is keen to replicate that success in the capital.
Buildings in Vientiane have been renovated and are in "very good" condition, said government spokesman Khenthong Nuanthasing.
"It's good for tourists. When the tourists come to Vientiane, they are looking for that," he said.
Collins believes governments in all three countries should see the preservation of French-era structures not as a nuisance, but as a way to attract revenue from foreign visitors.
But if recent remarks by the Cambodian Prime Minister Hun Sen are anything to go by, those in favor of conservation face an uphill battle.
"They want to keep the old buildings ... but when they collapse, who would be responsible?" Hun Sen said in September when he announced plans for a 555m tower in Phnom Penh.
"Don't be too conservative. Skyscrapers are appearing. Let's build high buildings," he said.
Comments will be moderated. Keep comments relevant to the article. Remarks containing abusive and obscene language, personal attacks of any kind or promotion will be removed and the user banned. Final decision will be at the discretion of the Taipei Times.