Kinect set for domestic launch on Nov. 20
Taiwanese players will be able to move their bodies to the latest dance or adventure games on Xbox 360 on Nov. 20, the day that Microsoft Corp is scheduled to roll out its Kinect motion control device for the Taiwanese, European and Japanese markets.
Microsoft Taiwan will make 14 game titles, including six Mandarin versions, available to local players to coincide with the Kinect launch, the firm said in a statement.
These titles — featuring disco dance moves, adventures on an African safari or rowing boats through rapids — will bring loads of fun for the whole family, it said.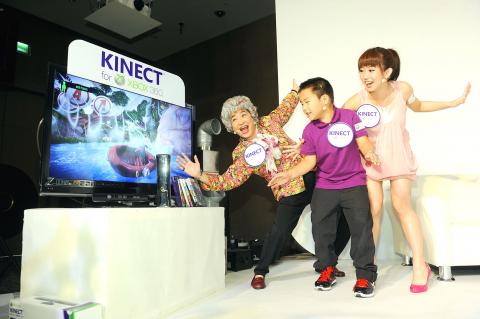 Yang Li-yin, left, Liang Zhi-yu, center, and Yao Yao — who starred recently in a local TV drama — attend a press conference in Taipei yesterday to promote Kinect, a Microsoft controller-free gamer for the Xbox 360 video game platform. The new product is set to hit Taiwanese shelves in the middle of this month.
Photo: Sean Chao, Taipei Times
Kinect is a box that connects to Xbox and is capable of detecting players' motion and voice through built-in sensors, saving players from the hassle of holding the controller in their hands.
It will retail for NT$5,490 (US$179) in Taiwan. The bundled version with an Xbox 360 4GB model will sell for NT$10,360. Both packages come with a free game.
Kinect's recommended selling price in Taiwan is slightly higher than that in the US, where Kinect went on sales last week for US$149.99 and starting from US$299.999 if bundled with an Xbox.
Microsoft last week also raised its sales forecast for Kinect to 5 million units this quarter from its earlier projection of 3 million — which could be a boon for the Taiwanese supply chain.
According to a report by the Chinese-language DigiTimes, a number of Taiwanese firms are supplying components to Kinect. These include camera modules from Newmax Technology Co (新鉅科技); power supplies from Chicony Electronics Co (群光電子) and Delta Electronics Inc (台達電); connectors from Cheng Uei Precision Industry Co (正崴); and fan coolers from Adda Corp (協禧電機).
Hon Hai Precision Industry Co (鴻海精密) and Singapore-based Flextronics International Ltd also provide assembly service for the motion sensors, DigiTimes said.
Capital Securities Corp (群益證券) is especially upbeat on prospects for Elite Advanced Laser Corp (聯鈞光電), the sole assembler and tester of laser heads for Kinect.
Microsoft has yet to certify a new supplier to assemble and test Kinect's laser heads and that will ensure Elite enjoys steady orders from the software giant into the second half of next year, Capital Securities said in a report on Thursday last week.
Orders from Microsoft are forecast to account for more than 30 percent of Elite's total revenue next year, up from the current 20 percent, the report said.
Comments will be moderated. Keep comments relevant to the article. Remarks containing abusive and obscene language, personal attacks of any kind or promotion will be removed and the user banned. Final decision will be at the discretion of the Taipei Times.