Bank of Japan trims growth forecast
DEFLATION'S END?: The bank said that although consumer prices were likely to fall this fiscal year, prices excluding fresh food would rise 0.1 percent in the next fiscal year
The Bank of Japan (BOJ) yesterday revised downward its forecast for the nation's growth in this fiscal year to a median 2.1 percent from 2.6 percent, but said it saw deflation ending in the next fiscal year.
In a statement, the central bank said that the pace of Japan's recovery was slowing amid a deceleration in growth in crucial exports and production. It also warned that the recent strength of the yen against other major currencies would hinder Japan's recovery from deep recession.
"In the second half of fiscal 2010, the pace of recovery is likely to slow," the bank said in a statement.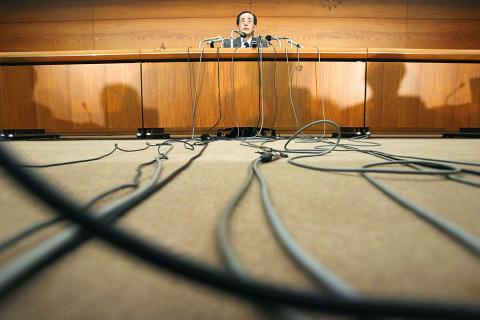 Bank of Japan Governor Masaaki Shirakawa speaks during a news conference at the central bank in Tokyo yesterday.
PHOTO: REUTERS
It cited "factors such as the slowdown in overseas economies and the ending of the boost from policy measures targeted at durable consumer goods, as well as the recent appreciation of the yen."
The BOJ also lowered its growth forecast for the next fiscal year to 1.8 percent from an earlier 1.9 percent.
The bank maintained its forecasts for consumer prices, excluding volatile fresh food items, to fall 0.4 percent this fiscal year. However, prices would rise 0.1 percent in fiscal 2011 and continue doing so, heralding an end to Japan's crippling deflation, the bank said.
Earlier yesterday, the central bank kept its key rate between zero and 0.1 percent in a widely expected move aimed at helping safeguard an economy mired in deflation and threatened by a strong yen.
The move followed a surprise decision earlier this month to adopt a near zero rate policy and announce a ¥5 trillion (US$61 billion) asset purchase scheme to lower borrowing costs and tackle deflation.
It had earlier expanded a loan scheme enabling banks to borrow a total of ¥30 trillion from the central bank for a maximum of six months against pooled collateral.
The central bank yesterday gave details of its purchase scheme, which will see it invest in assets such as government bonds, -commercial paper, corporate bonds and exchange traded funds.
It has earmarked ¥1.5 trillion for purchases of Japanese government bonds (JGBs) and around ¥2 trillion to be spent on treasury discount bills. It plans to spend ¥0.5 trillion on what it sees as low-risk corporate bonds.
The central bank also decided to push ahead its next policy board meeting to next Thursday and Friday from Nov. 15 and Nov. 16.
The move means the BOJ will meet after a scheduled US Federal Reserve meeting on Tuesday and Wednesday, in which the US central bank is widely expected to announce further easing measures to bolster the economy.
However, any steps the BOJ may take in response to the Federal Open Markets Committee (FOMC) meeting next week will likely have only limited effect, Nikko Cordial Securities chief market economist Mari Iwashita told Dow Jones Newswires.
"Even if the yen strengthens in response to the outcome of the FOMC, all the BOJ can do is to expand its new lending facilities," though the scale of any such increases could be dwarfed by the FOMC's steps, Iwashita said.
Comments will be moderated. Keep comments relevant to the article. Remarks containing abusive and obscene language, personal attacks of any kind or promotion will be removed and the user banned. Final decision will be at the discretion of the Taipei Times.