US economy bottoming out, Nobel laureate says
The US economy is bottoming out, but it has yet to recover and is likely to experience a period of stagnation until the country reduces its debt, US Nobel prize-winning economist Edward Prescott said in Taipei yesterday.
Prescott, currently a senior adviser to the US Federal Reserve Bank in Minneapolis, said the US financial crisis is a symptom, but not the cause, of the recent economic downturn.
"The good news is that the US economy is bottoming out after having contracted for 17 months," the economist told a forum on international economy and finance.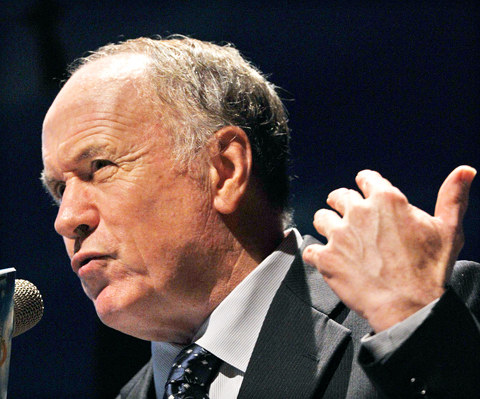 Edward Prescott, winner of the Nobel Prize in Economics in 2004, speaks during a lecture on the economic crisis and the business cycle in Taipei yesterday.
PHOTO: CNA
However, Prescott said the world's largest economy is not recovering and that it may head toward stagnation until it adopts measures to cut public expenditure and boost productivity.
Prescott voiced concern that the US may experience "a lost decade" like Japan, with almost zero economic growth following a real estate bubble in the 1990s.
The high unemployment rate in the US shows that productivity and market value have fallen, said Prescott, a heavyweight figure in the theories of business cycles and general equilibrium.
He has said the current population survey (CPS) of working hours, a gauge of the labor force, is a better indicator of the country's output than GDP because the former data is released monthly and does not require much revision.
Despite its lackluster performance in recent years, the US remains the world's major consumer of Taiwanese-made electronics and its main economic data continues to serve as bellweather of local tech firms' prospects.
Prescott expressed more optimism on China's sustained economic growth, saying the emerging economy may overtake the US in a few years after becoming the world's second-largest economy this year.
The Nobel laureate said he was also impressed at the pace of Taiwan's economic recovery and lauded the government for cutting the corporate income tax rate.
Lower tax rates and deregulation are key to spurring growth, he said, adding that governments should not erect barriers to free trade to boost productivity, as such moves only benefit special interest groups.
Comments will be moderated. Keep comments relevant to the article. Remarks containing abusive and obscene language, personal attacks of any kind or promotion will be removed and the user banned. Final decision will be at the discretion of the Taipei Times.