Yangzijiang makes Taiwan debut
FIRST Yangzijiang is the first Chinese company to list on the local stock exchange, where the shipbuilder sold 240 million TDRs and raised about NT$4.5 billion
Yangzijiang Shipbuilding Holdings Ltd (揚子江船業) — the first Chinese company to list on the Taiwan Stock Exchange — yesterday saw its Taiwan Depository Receipts (TDR) close higher by the 7 percent daily limit in its debut on the main bourse.
The shipbuilder's TDRs hit NT$20.1 shortly after the start of trading — up from the offering price of NT$18.8.
Yangzijiang, China's fourth-­largest shipmaker, which listed in Singapore in April 2007, raised NT$4.5 billion (US$140.6 million) from the sales of 240 million TDRs, representing 120 million of its common shares.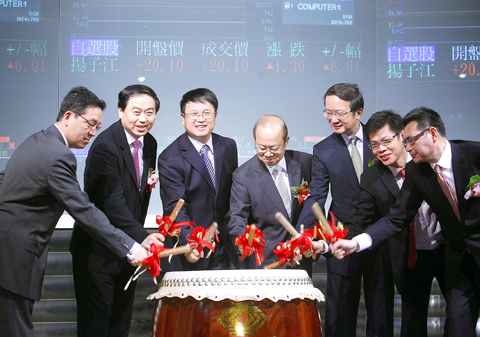 Yangzijiang chairman Ren Yuanlin, third left, Taiwan Stock Exchange Corp chairman Schive Chi, center, and other officials hit a traditional Chinese drum as part of a listing ceremony at the exchange headquarters in Taipei yesterday.
PHOTO: REUTERS
The company's share sales come as prospects are improving for shipbuilders worldwide and in the wake of the Economic Cooperation Framework Agreement (ECFA), which Taiwan and China signed in June.
The shipmaker's second-­quarter profits rose 32 percent over the past year to a record 800.5 million yuan (US$118 million).
Late last month, it announced a 100 million yuan land purchase to expand capacity at its shipyard in Jiangsu Province, China.
Yangzijiang chairman Ren ­Yuanlin (任元林) said the TDR listing would boost the company's presence in Taiwan, facilitating client-base expansion. It is also looking for local talent to meet its capacity expansion plans, he said.
Ren said the company's production capacity would be fully utilized until the end of 2012, thanks to its current orders to build 124 ships, worth US$5.2 billion.
Meanwhile, Singapore's top ­instant-coffee maker Super Group (超級集團) is set to debut its TDRs today, making it the 20th foreign-listed company to issue TDRs.
Super Group is issuing 40 million TDRs, which translate to 20 million of its Singapore-listed shares, to raise NT$560 million, according to the company's prospectus.
The TDRs have been set at NT$14 each, representing a 25.5 percent premium over the company's closing price on the Singapore Exchange on Wednesday last week, the prospectus said.
Underwriter Polaris Securities Co (寶來證券) said Super's public offering was oversubscribed by about 20 times.
Established in 1987, Super is the largest instant-coffee maker in Southeast Asia. The company yesterday said it plans to use the proceeds for the relocation of its Singapore headquarters and capacity expansion for its facilities in Wuxi, China.
Super's net income for the first six months rose 121 percent from a year earlier to S$33.9 million (US$25 million), while revenues grew 18 percent to S$158.4 million.
The company's gross margin rose to 39.3 percent from 32.8 percent last year for the first six months, the company said.
Meanwhile, the government is gearing up to boost the nation's capital markets by attracting more overseas companies to seek primary or secondary listing. Earlier this week, Singapore-listed China Taisan Technology Group Holdings Ltd (中國泰山科技控股) said it received approval from the Taiwan Stock Exchange to issue up to 250 million TDRs.
Taiwan Stock Exchange Corp (TWSE, 台灣證交所) chairman Schive Chi (薛琦) yesterday said the stock exchange was mulling plans to ensure fair and real-time information disclosure for TDRs.
There will soon be a mandatory mechanism implemented to ensure that announcements made in Taiwan by issuers of TDRs are synchronized with their announcements in their home markets.
The move comes as trading hours, daily limits, trading currencies and trading methods of other markets vary from those of Taiwan, and there could also be an information blackout period for Taiwanese investors, TWSE said.
Comments will be moderated. Keep comments relevant to the article. Remarks containing abusive and obscene language, personal attacks of any kind or promotion will be removed and the user banned. Final decision will be at the discretion of the Taipei Times.