ProMOS selling 12-inch fab to Macronix
ProMOS Technologies Inc (茂德科技), the nation's No. 3 computer memory chipmaker, yesterday said its board had approved a proposal to sell an old 12-inch fab for NT$8.5 billion (US$271 million) to Macronix International Co (旺宏電子).
ProMOS said proceeds from the sale would be used to support its migration to more advanced process technology, which is seen as crucial for the company to catch up with rivals in supplying new-generation DDR3 chips using more cost-efficient technology.
The announcement came amid widespread optimism that recovering PC demand would boost DRAM profits this year, following a three-year slump.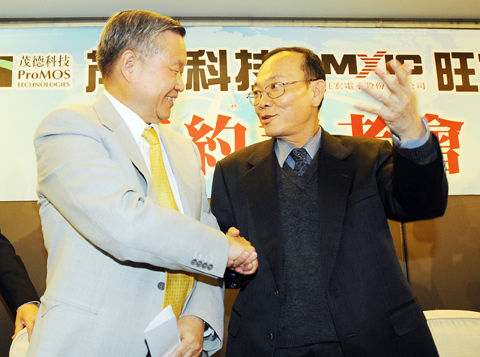 ProMOS Technologies chairman Chen Min-liang, right, shakes hands with Macronix International Co chairman Miin Wu at a press conference yesterday to announce Macronix's purchase of a plant owned by ProMOS.
PHOTO: WANG YI-SUNG, TAIPEI TIMES
The deal would "aid ProMOS in ramping up production using Elpida Memory Inc's technology in time," ProMOS chairman Chen Min-liang (陳民良) told a media briefing.
The chipmaker plans to use proceeds from the sale to purchase new equipment to migrate from 65-nanometer process technology to 63-nanometer technology at an advanced 12-inch plant in Taichung.
The new Elpida technology will enable ProMOS to make new DDR3 chips cost-efficiently beginning in August and rapidly growing mobile DRAM in the middle of next year.
ProMOS currently only makes DDR2 chips, which is fast being replaced by DDR3 as the mainstream memory chips for PCs this year.
ProMOS said it would book NT$2.65 billion in profits after the transaction, raising the likelihood of swinging into the black this quarter. This year, it plans to spend as much as NT$6 billion on new equipment.
Macronix, which mainly produces flash chips, said the transaction would help it double output in time to help ease supply shortages on strong demand for consumer electronics chips used in products such as Nintendo Co's Wii video game consoles.
Separately, Elpida is planning to double capital spending for this year to US$1 billion from the US$500 million originally planned for the fiscal year ending in March next year, company chief executive Yukio Sakamoto said yesterday in Taipei.
Last year, Elpida spent US$600 million on new equipment.
"This year will be a good year for the DRAM industry," Sakamoto said, citing supply constraints. "PC demand is very strong."
That was based on his estimate that global DRAM capacity would grow between 30 percent and 40 percent year-on-year, while demand would increase by more than 50 percent, Sakamoto said.
"I do not think prices [for DDR3] will decline," Sakamoto said, adding that prices should remain at a healthy level of US$3 per unit.
Comments will be moderated. Keep comments relevant to the article. Remarks containing abusive and obscene language, personal attacks of any kind or promotion will be removed and the user banned. Final decision will be at the discretion of the Taipei Times.