Taiwanese bike makers ask to join 'early harvest'
The Taiwan Bicycle Exporters' Association (台灣區自行車輸出業同業公會) is urging the government to include bicycles on the "early harvest list" as the country negotiates with China on a proposed economic pact.
"If that were to happen, Taiwanese firms could switch their manufacturing bases in the mainland back to Taiwan, then export them to the China market if the duty is zero," association chairman Yang Ying-ming (楊銀明) said.
The association reached a consensus during its general meeting last December and submitted the request to the Ministry of Economic Affairs the same month, he told reporters on the sidelines of the Taipei International Cycle Show opening ceremony.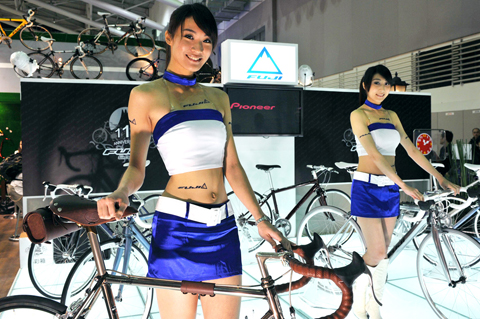 Models pose with bicycles on display at the Taipei International Cycle Show at the ­Nangang Exhibition Center yesterday.
PHOTO: SAM YEH, AFP
Taiwanese manufacturers' technological know-how makes them more competitive in producing high-end bikes and they could secure a lead over their Chinese counterparts, who focus on lower-end bikes, he said.
"This is the strength that we would enjoy with our strong brand names, especially since demand for high-end bikes is rising in China," he said.
The second round of formal negotiations on an economic cooperation framework agreement (ECFA) is expected to take place in Taipei next week. Officials from both sides will exchange their respective early harvest lists then.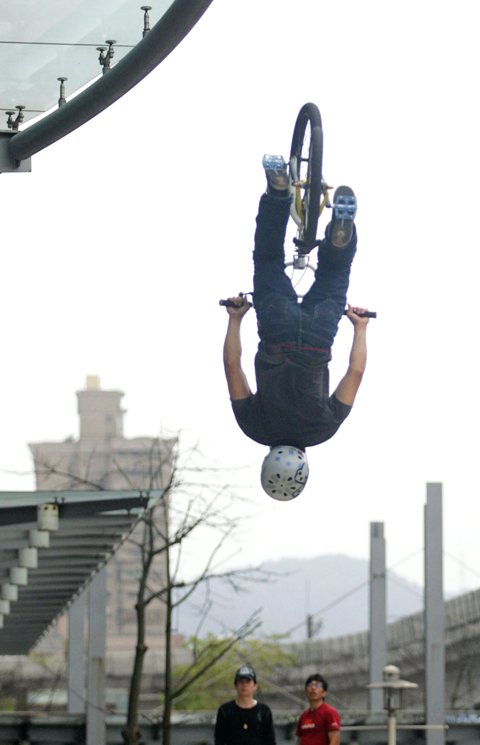 People look on as a bicyclist executes a jump during an extreme cycling performance at the Taipei International Cycle Show in Nangang yesterday.
PHOTO: PICHI CHUANG, REUTERS
The lists refer to the industries and services on both sides that will be granted immediate tariff concessions or more liberal trade terms under the ECFA.
Taiwanese manufacturers exported 4.3 million bikes last year, a slump of 20.4 percent from 2008 because of the impact of the financial crisis. The export revenue fell 10 percent to US$1.25 billion, data from the association shows.
The Taipei International Cycle Show is being held at the Nangang Exhibition Hall and will end on Saturday.
It is the largest such exposition in Asia and the third-largest in the world. There are 894 vendors from home and abroad at the show, occupying 3,018 booths, making it the biggest in its 23-year history, organizers said. The trade fair is only open to the public on the last day with an admission fee of NT$200 (US$6).
Comments will be moderated. Keep comments relevant to the article. Remarks containing abusive and obscene language, personal attacks of any kind or promotion will be removed and the user banned. Final decision will be at the discretion of the Taipei Times.