Antarctic wind farm reduces bases' reliance on diesel
The world's southernmost wind farm has been opened in Antarctica, the first in what could be a number of renewable energy projects aimed to lower the frozen continent's reliance on diesel for power.
The construction of the three-turbine Ross Island wind farm was a huge challenge in an environment where the temperature can fall as low as minus 57°C.
The wind farm will supply about 11 percent of the power to New Zealand's Scott Base and the US McMurdo Station, and will cut diesel consumption by about 463,000 liters per year.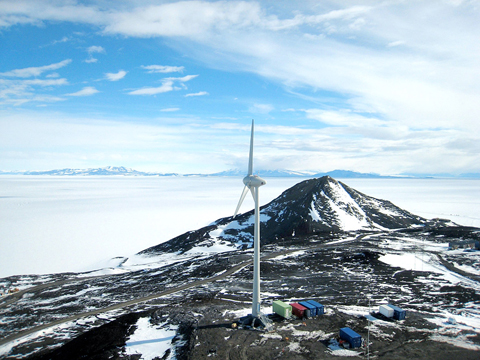 One of three new wind generation turbines under construction on Ross Island in ­Antarctica is pictured in this undated handout image.
PHOTO: REUTERS
'WAY FORWARD'
If the wind farm proves a success it could be followed by others, with solar generation also being evaluated for potential use, said Scott Bennett, project ­manager with Meridian Energy, the state-owned New Zealand power company that built and runs the turbines.
"The philosophy is to get this one up and running, get it operating for a year and it can show us the way forward," Bennett said.
METICULOUS PLANNING
There are enough potentially suitable sites around Scott Base and McMurdo Station to power up to 50 percent of the combined bases' energy needs.
With only one supply ship a year, the project required meticulous planning to ensure all the required parts were packed into the limited space.
"Everything had to be planned right down to the last nut and bolt," Bennett said.
Construction of the 37m turbines took two years, partly because the only window when the weather is mild enough to permit work is between November and February. The NZ$10 million (US$7.4 million) cost was met mostly by the New Zealand government.
Ross Island is not the first wind farm to be built in Antarctica, with Australia's Mawson Station running two turbines.
Also See: Can energy be governed?
Comments will be moderated. Keep comments relevant to the article. Remarks containing abusive and obscene language, personal attacks of any kind or promotion will be removed and the user banned. Final decision will be at the discretion of the Taipei Times.