FEATURE : Taipei's new mall caters to high-end market
Just when the clock ticked past 12pm on Sept. 21 — an hour after Taipei's newest shopping mall, Bellavita, flung open its doors — one woman was seen walking out with a pair of Roger Vivier shoes, which carry a price tag of NT$26,000 (US$802).
"This is NT$5,000 to NT$6,000 more expensive than the same pair sold in Hong Kong, but it saves me the cost and time of flying over there to purchase them," the 40-something woman said in an upbeat tone as she held up her first pair of Roger Vivier shoes.
Top-tier clientele with strong spending power is the target of Roger Vivier — the French luxury shoe brand beloved by A-list stars such as Nicole Kidman, Shu Qi (舒淇) and Carina Lau (劉嘉玲).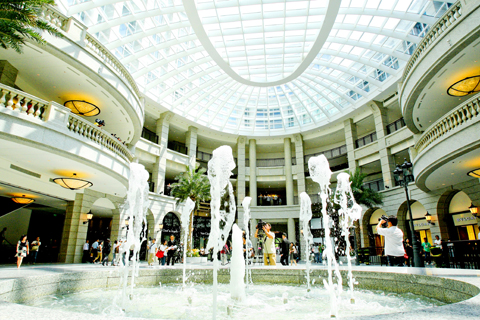 A fountain in Bellavita's central court occupies center stage under the shopping mall's signature glass roof on Sept. 21.
PHOTO: WANG WEN-LIN, TAIPEI TIMES
"We cannot underestimate the potential of these clients," said Sarah Huang (黃伊亭), marketing supervisor of Dickson Trading Taiwan (台灣迪生), the sole distributor of Roger Vivier and Tod's in Bellavita. "We started to get enquiries six months before the outlet opened."
She's right. More than 10 pairs of Roger Vivier shoes were sold in the first hour Bellavita was open, with some customers buying two pairs. The shoes carry price tags of between NT$20,000 and more than NT$200,000, although they could easily top NT$1 million for those wanting a custom-made pair decorated with diamonds or gold.
A woman reportedly bought a NT$250 million necklace at Bellavita on opening day as well.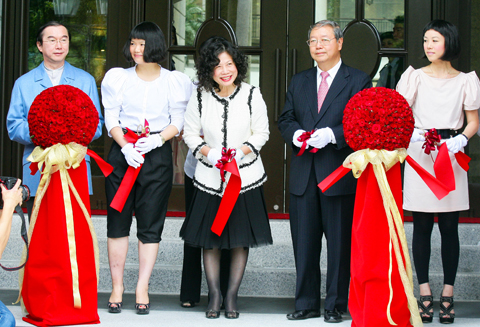 Quanta Computer chairman Barry Lam, left, S.H. Leung, center, and Quanta president C.C. Leung, second right prepare to cut the ribbon to open Taipei's newest shopping mall, Bellavita, on Sept. 21.
PHOTO: WANG WEN-LIN, TAIPEI TIMES
The launch of Bellavita may not have come at the right time in Taiwan's economy, given that consumer spending is still rebounding from the financial turmoil. While general consumer confidence showed signs of improvement, spending behavior remains largely focused on frugality.
The consumer confidence index picked up 3.45 points last month to reach a 15-month high of 56.45 after food costs stabilized and the TAIEX rebounded, a National Central University survey showed on Sept. 28.
Meanwhile, sales at department stores and shopping malls dropped 0.71 percent year-on-year to NT$17.2 billion in August, Ministry of Economic Affairs data released on Sept. 22 showed. The figure was NT$139.6 billion for the first eight months of the year, down 1.06 percent from the previous year, the data showed.
But S.H. Leung (梁秀卿), chairwoman of Bellavita, is unfazed.
"The economy isn't as bad as the public perceives. We are upbeat on the prospect of Bellavita," she said at the mall's launch.
Despite her bullish tone, the mall's management has declined to offer figures, including its break-even time frame, investment amount or revenue target. Local media has reported the total investment stands at nearly NT$10 billion.
Located in the Xinyi (信義) shopping area and within walking distance of the Taipei City Hall MRT station, Bellavita took a total of five years to become a reality, Leung said. It was a dream come true for the family's three daughters, made possible by her husband C.C. Leung (梁次震), Quanta Computer Inc's (廣達電腦) vice chairman and president.
One of the notable designs of the European-themed Bellavita, which has 6,316 ping (20,879m²;) of floor space on a 2,260-ping plot of land, is the glass roof at the center, with more than 2,445m²; of glass.
"The Leung family was on a trip to Milan, where they were awed by Galleria Vittorio Emanuele and thought that they should have the same design for their mall here," said Virginia Siu (蕭韋菁), marketing and public relations executive at Bellavita.
The mall has six floors above ground and four underground. Most floors will include a cafe or restaurant.
Siu said Bellavita would be the first "lifestyle" shopping space in Taiwan and people will no longer have to fly to Europe to see what Europe has to offer.
Seven outlets were opened on the first floor for the for the first-phase launch, including Tod's, Hermes, John Lobb, Van Cleef & Arpels and Christofle.
Bellavita is expected to be fully open by December, when the Deluxe Food Hall in basement two, the Art Gallery in basement one and Designer Boutique on the second floor open their doors.
The Designer Boutique will have 10 fashion and accessories brands from Europe, the US and Japan, aimed at younger buyers.
The Ton 28 (同28) restaurant featuring high-class Japanese cuisine was one outlet ready for business on opening day, despite its hefty tabs. Lunches range from NT$880 to NT$1,500 per person, while dinners can run between NT$1,800 and NT$3,500 a head. A branch of the Michelin-rated Joel Robuchon French restaurant will open on the fifth floor by December.
Despite being positioned as a mall for the very wealthy, Bellavita management said they hope to attract consumers from all walks of life. How successful this ambition will be remains to be seen.
"It should be a rocky first year of operation given the current economic climate. It has to build up a client base and client loyalty step by step," said Annie Chuang (莊琅綺), executive assistant to the president at Uni-President Department Stores Corp (統一百華), which is going to launch Uni-President Hankyu Department Store (統一阪急百貨) in the Xinyi neighborhood during the second half of next year.
For instance, the Italian jeweler Bulgari must earn at least NT$80 million in revenues a year to survive, said Chuang, who was at the Bellavita launch.
Since some of the new mall's tenants also have outlets in Taipei 101 Shopping Mall, business at Taipei 101 could be affected when the Bellavita is fully operational, she said.
However, Bulgari — which has stores at Taipei 101 and Bellavita — is not worried about the "double competition." Bulgari's country managing director Bobbie Hu (胡瑞) said the brand's Bellavita outlet — its eighth store in Taiwan and the largest at 90 ping — will display its full range, with the priciest jewelry to woo a top clientele, while the Taipei 101 store will cater to a more general crowd.
With the top range of products at Bellavita, that store's sales should hit more than NT$10 million a month, Hu said.
"The emergence of Bellavita reflects the phenomenon of Taiwan developing society with two extreme ends — the extremely rich and the extremely poor," said Chiou Jyh-shen (邱志聖), a professor of international business at National Chengchi University, who studies branding strategy and strategic marketing.
Bellavita is eyeing the top end of the top-scale clients, which Taipei 101 and Breeze Center (微風廣場) might not have reached in the past, and aims to give these "walking spending powerhouses" tailor-made services, he said.
Comments will be moderated. Keep comments relevant to the article. Remarks containing abusive and obscene language, personal attacks of any kind or promotion will be removed and the user banned. Final decision will be at the discretion of the Taipei Times.