Opel bid faces 'serious challenges'
Talks between General Motors Corp (GM) and the German government over which of two bidders will take control of GM's Opel unit have run into "serious challenges," according to a person with knowledge of the discussions.
GM's board, in a telephone conference call meeting on Friday, made no decision between bids from a consortium led by Canada's Magna International Inc and Brussels-based investor RHJ International SA.
The board instead questioned the aid package offered by the German government in the deal because it only included an option to fund the Magna group, said the person, who didn't want to be identified because the talks are ongoing.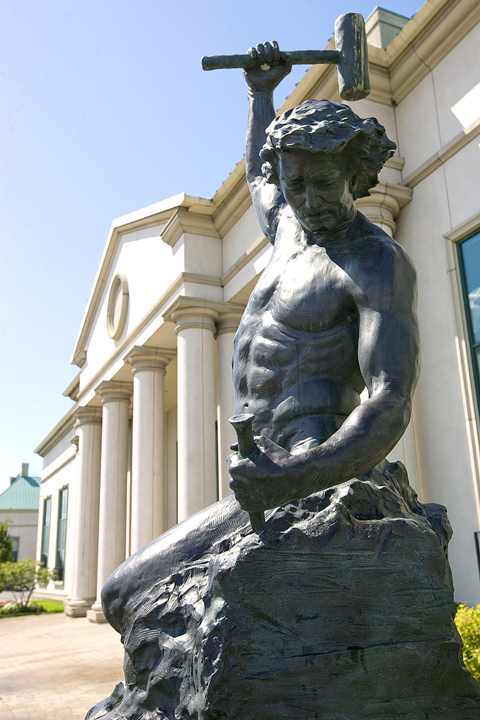 A statue stands in front of a technical training center of auto parts manufacturer Magna International in Brampton, Ontario, Canada, on Friday.
PHOTO: BLOOMBERG
The government has been clear it wants the Magna group, which includes Russian lender Sberbank, to gain controlling interest in Opel. GM has said it would prefer RHJ because the Magna-­Sperbank bid raises the possibility of GM patents and other intellectual property falling into competitors' hands.
A German government official said the government "regrets" that the board didn't make a decision and said talks will continue this week. The person, who requested anonymity because the talks are private, said officials are confident that solutions will be found.
German Chancellor Angela Merkel, in an interview published on Friday, renewed backing for Magna, saying its bid is "the better concept."
"As things stand, I view the chances for the financial investor RHJI very critically," Merkel was quoted as telling the daily Frankfurter Allgemeine Zeitung. "Our preferences lie clearly with Magna. Magna has experience in car building and the better concept."
"Without doubt, the Russian component definitely makes sense," Merkel said, according to the report. "And I see many chances there."
Economy Minister Karl-Theodor zu Guttenberg told the Financial Times Deutschland newspaper that he expected a "basic assessment" on the bids but it is a "matter for GM" whether it makes a decision yet.
Government spokesman Klaus Vater declined to say whether Germany would accept a decision in favor of RHJ.
Comments will be moderated. Keep comments relevant to the article. Remarks containing abusive and obscene language, personal attacks of any kind or promotion will be removed and the user banned. Final decision will be at the discretion of the Taipei Times.