General Motors to register 3.5 billion shares of stock
The new General Motors Co (GM) plans to register 3.5 billion shares of stock to ready itself for a public offering sometime next year, using the proceeds to repay at least part of what it owes the US government and other stakeholders.
GM disclosed in a filing with the US Securities and Exchange Commission on Friday that it would register 2.5 billion common and 1 billion preferred shares in preparation for the public sale. Its executives and the government have said they expect the sale sometime next year, but no date has been disclosed.
Spokeswoman Julie Gibson said the company was merely authorizing 3.5 billion shares, but likely would not sell that high a number in an initial public offering.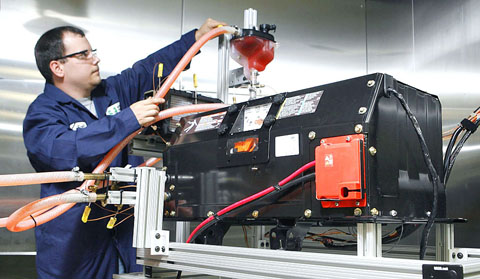 The battery for a new 2011 Buick hybrid crossover vehicle is prepared for testing at the General Motors Tech Center in Warren, Michigan, on Wednesday. The 8kWh battery will be packaged in a rectangular-shaped box under the cargo floor. The vehicle is expected to be the first commercially available plug-in hybrid SUV produced by a major automaker.
PHOTO: EPA
It is common practice, she said, for companies to register more shares than they issue.
Current GM stakeholders include the US government, which now owns 61 percent of the Detroit company. So far GM has received US$50 billion in US government aid, some of which is to be repaid with the stock sale.
GM emerged from bankruptcy on July 10 after a lightning-quick 40-day stay, cleansed of much of its debt and burdensome contracts.
Its good assets were sold to a new company.
Just before it filed for bankruptcy protection, GM had about 611 million shares outstanding, but those shares stayed with the old GM, which now is mainly a collection of debt as well as closed plants and bad assets waiting to be liquidated.
The company also disclosed on Friday that it will not report second-quarter earnings this year, but it will disclose its performance for the three-and nine-month periods to Sept. 30.
Those reports will come after the third quarter closes, and the company says they will not comply with general US accounting principles.
Meanwhile, Australia said yesterday it had extended a A$200 million (US$170 million) lifeline to car maker GM Holden following the bankruptcy of General Motors, its ailing US parent.
Australian Industry Minister Kim Carr said the credit, which had not yet been drawn upon by Holden, was agreed a month ago as part of a broader effort to save more than 200,000 jobs in Australia's automotive sector.
The Export Finance and Insurance Corporation (EFIC), the government's export credit agency, said Holden was an "iconic Australian company" which deserved full support.
"The facility has been put in place to provide support for GMH exports of vehicles, parts and engineering services to Europe, the Middle East, Africa and Asia, as the Australian manufacturer establishes stronger market links under the newly created General Motors Company," EFIC said.
Comments will be moderated. Keep comments relevant to the article. Remarks containing abusive and obscene language, personal attacks of any kind or promotion will be removed and the user banned. Final decision will be at the discretion of the Taipei Times.