Chunghwa to market iPhone 3GS in August
Chunghwa Telecom Co (中華電信), the nation's biggest telecom operator, yesterday said it would start offering Apple Inc's latest iPhone 3GS next month as part of efforts to boost revenue by selling more data-centric handsets.
To cope with an increasingly saturated voice market, local telecom operators have shifted their focus to bundling telecom services with netbook computers or smartphones to cater to consumers' rising demand for easy Internet connection on the go.
"We have found that our iPhone users tend to download more content from the Internet than users of other handsets," said Lin Jen-hon (林仁紅), a vice president at Chunghwa Telecom.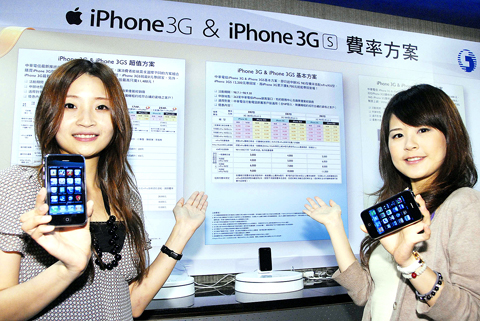 Chunghwa Telecom staffers display Apple iPhone 3G and 3GS smartphones in Taipei yesterday.
PHOTO: CNA
USAGE
The average revenue per user (ARPU) from Chunghwa Telecom's iPhone users amounted to about NT$1,500, which is 25 percent higher than an ARPU of NT$1,200 from users of smartphones from companies such as HTC Corp (宏達電) and Nokia Oyj, the telecom company said.
Chunghwa Telecom said it expected uptake of the new iPhone to be the faster than that of the previous model, to which Chunghwa also obtained exclusive distribution rights in the middle of last December.
Sales of the iPhone 3GS could exceed 50,000 units within three months after its launch in early August, said Lin, adding that the company had received numerous inquiries about the sale of the new iPhone model.
The company will be selling the phone for NT$29,900 per unit. It will also offer a free iPhone 3GS for users who subscribe to a package with a minimum monthly service fee of NT$1,749 for two years. Customers can pre-order from July 8 through July 19.
DISAPPOINTING
In contrast to the demand for iPhones, HTC's Android phone — dubbed the HTC Magic — seemed to have fallen short of Chunghwa Telecom's expectations, a source said. Chunghwa Telecom started selling its first Android phone by HTC last Monday.
Overall, Chunghwa Telecom plans to buy 320,000 smartphones this year, making up about 16 percent of the 2 million cellphones that the company plans to purchase this year for new subscribers, or existing subscribers to upgrade their phones.
Comments will be moderated. Keep comments relevant to the article. Remarks containing abusive and obscene language, personal attacks of any kind or promotion will be removed and the user banned. Final decision will be at the discretion of the Taipei Times.