MOEA initiates WiMAX alliance with suppliers
The Ministry of Economic Affairs (MOEA) signed a memorandum of understanding (MOU) yesterday with five international telecom equipment makers for technology cooperation on the Worldwide Interoperability for Microwave Access (WiMAX) protocol.
The five companies were Alcatel-Lucent, Motorola Inc, Nokia Siemens Networks, Sprint-Nextel Corp and Starent Networks Corp.
Under the MOU, the five companies agreed to increase procurement from Taiwanese suppliers and collaborate with local companies in developing WiMAX technology, said Minister of Economic Affairs Steve Chen (陳瑞隆), who signed the MOU during the 2007 WiMAX Forum Showcase and conference in Taipei yesterday.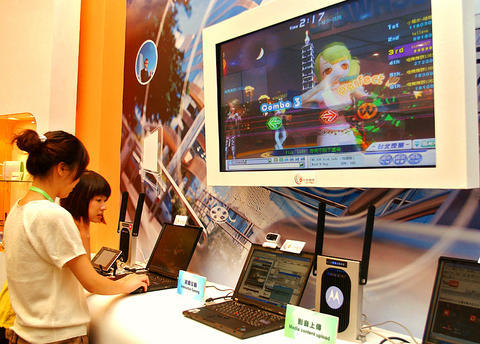 People play online games on a laptop computer operating on the Worldwide Interoperability for Microwave Access (WiMAX) protocol in Taipei yesterday.
PHOTO: PATRICK LIN, AFP
"WiMAX is one key technology the government is promoting ... Taiwan has invested about US$664 million building its WiMAX infrastructure, the second-highest [investment] in the world," Chen said. "We expect the output value of the WiMAX industry in Taiwan to reach NT$140 billion [US$4.3 billion] by 2012."
The cooperation with the five companies covers the development of base stations, terminal equipment, an interoperability test center in Taiwan, global roaming service and WiMAX network-related technology, Chen said.
Nokia Siemens Networks said the company would exchange technology with local companies, including telecom equipment maker Zyxel Communications Corp (合勤科技) and chip designer MediaTek Inc (聯發科技) so that WiMAX products can hit the stores sooner.
In addition, the company will provide testing services for local WiMAX customer premises equipment manufacturers, with an initial investment of 10 million euros (US$14.2 million), said Mike Wang (王建亞), head of Nokia Siemens Networks' Taiwan and Hong Kong.
"As Taiwan is one of the few countries to be aggressively pushing for investment in WiMAX, Nokia Siemens Networks aims to sign supply agreements with one or two local WiMAX operators," Wang said.
WiMAX technology enables Internet access at four to five times the speed provided by broadband.
In May, the ministry signed similar MOUs with Intel Corp, NEC Corp, Nortel Networks Corp and Rohde & Schwarz to develop WiMAX technology.
In July, the National Communications Commission granted six WiMAX licenses for Taiwanese companies to provide WiMAX connectivity.
Nokia Siemens has signed contracts with the US's third-biggest wireless service provider, Spring Nextel Corp, and the UK's telecom operator Pipex Internet Inc to implement the WiMAX network.
Rival Motorola Inc said earlier this month it had secured two contracts for the WiMAX network infrastructure with Far EasTone Telecommunications Co (遠傳電信), the nation's third-largest telephone company, as part of the operator's role in the M-Taiwan project.
Meanwhile, Global Mobile Corp (全球一動), a provider of digital content using WiMAX technology established by former Hewlett-Packard Taiwan chairwoman Rosemary Ho (何薇玲), said yesterday it would joing forces with Hewlett-Packard to provide security surveillance, multimedia entertainment, long-distance medical services and business application services.
Comments will be moderated. Keep comments relevant to the article. Remarks containing abusive and obscene language, personal attacks of any kind or promotion will be removed and the user banned. Final decision will be at the discretion of the Taipei Times.