Microsoft spins off `Halo' creator
BACK TO ITS ROOTS Having been limited by working inside the software titan since 2000, researchers said Bungie Studios was likely to revel in its creative freedom
Microsoft Corp has spun off Bungie Studios, creator of the blockbuster Halo video game trilogy, but said on Friday it will maintain close ties with the company and own a minority stake in it.
Privately held Bungie LLC will develop games exclusively for Microsoft's Xbox 360 and Windows PC platforms "for the foreseeable future," Harold Ryan, Bungie's president and studio head, said in an interview.
The two companies said they would continue to work together to support the Halo franchise -- including Halo 3, which was released on Sept. 25 -- and expand their partnership to include new games. Executives declined to comment on the size of Microsoft's stake or other financial terms of the deal, which was effective from Friday.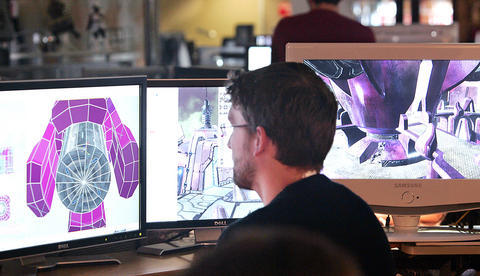 Environment artist Eric Elton works on a Halo video game on Friday at Bungie Studios in Kirkland, Washington.
PHOTO: AP
Microsoft acquired Chicago-based Bungie and its Halo concept in 2000, ensuring that the Xbox would be the only game console to run the multiplayer first-person shooter game. Bungie moved from Chicago to Kirkland, Washington, a few kilometers from Microsoft's Redmond headquarters, and the first installment of the trilogy went on sale simultaneously with the first Xbox console in November 2001.
"Working with Microsoft was great for us, it allowed us to grow as a team and make the ambitious, blockbuster games we all wanted to work on," Bungie founder and partner Jason Jones said in a statement on Friday. "But Bungie is like a shark. We have to keep moving to survive. We have to continually test ourselves, or we might as well be dolphins. Or manatees."
Matt Rosoff, an analyst for the independent research group Directions on Microsoft, said he doesn't think Microsoft wanted to spin off Bungie.
"This is probably about Bungie wanting to have a little more control over the kinds of games they're making, and not wanting to answer to Microsoft for everything," he said.
Ryan said Bungie had plenty of creative freedom while operating as part of Microsoft to build new game concepts and game prototypes.
But David Riley, a director at market researcher NPD Group, was skeptical.
"Even though they say they had plenty of creative juices flowing, [they] still can't act on them, not all of them anyway," he said. "There are limitations, and rules you need to abide by," when working inside a big corporation.
Gamers have plunked down more than US$300 million for Halo 3 since its release less than two weeks ago, and Microsoft said the game's launch goosed sales of the Xbox 360 console. The video game costs between US$60 and US$130, depending on special features and commemorative packaging.
About 4.5 million copies of the first Halo title were sold in the US, and more than 6.2 million of Halo 2, NPD Group said.
"While we are supporting Bungie's desire to return to its independent roots, we will continue to invest in our Halo entertainment property with Bungie and other partners," Shane Kim, corporate vice president of Microsoft Game Studios, said in a statement.
The company said it is working on a new project with film director Peter Jackson, of Lord of the Rings acclaim.
In an interview on Friday, Kim said that Microsoft had no plans to spin off other game studios owned by the software maker.
For the fiscal year that ended in June, Microsoft wrote down more than US$1 billion to cover widespread Xbox 360 defects, and reported an operating loss of more than US$1.89 billion for the division responsible for the game console.
The company has told Wall Street it expects the division to be profitable in the current fiscal year, and Kim said that thanks to the strong Halo 3 launch, "We're well on our way to achieving that objective."
Bungie's approximately 113 employees will remain in Kirkland.
Comments will be moderated. Keep comments relevant to the article. Remarks containing abusive and obscene language, personal attacks of any kind or promotion will be removed and the user banned. Final decision will be at the discretion of the Taipei Times.