Government destroys Chinese toys
The Ministry of Economic Affairs yesterday publicly destroyed hazardous Chinese-made toys to demonstrate its determination to crack down on substandard products in the hope of better protecting children's health and safety.
Presiding over the toy-smashing activities in Taipei, Minister of Economic Affairs Steve Chen (陳瑞隆) said that the demonstration was also aimed at raising the public's awareness of low-quality products manufactured in China.
Chen said that there was widespread concern around the world about unsafe Chinese products, including food products, toothpaste and toys.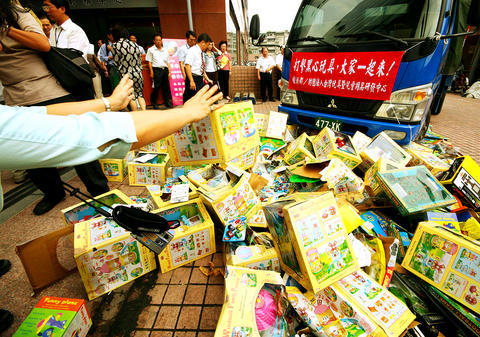 A truck crushes toys from China as part of a campaign staged by the Ministry of Economic Affairs in Taipei yesterday.
PHOTO: CNA
He added that many countries have begun to implement stricter controls on products imported from China.
Against this backdrop, the Executive Yuan established a special task force last month to monitor the safety of imported products, Chen said.
During the period from January to July, 114 of 4,589 batches of toys randomly chosen for inspection failed to pass safety tests, he said.
Among the 4,589 batches of toys, 3,215 batches came from China, with 109 of these batches failing to pass safety tests, Chen said.
Some of the Chinese toys were found to contain excessive levels of heavy metals in the paint, while others had sharp-pointed parts which were dangerous to children, the ministry said.
Comments will be moderated. Keep comments relevant to the article. Remarks containing abusive and obscene language, personal attacks of any kind or promotion will be removed and the user banned. Final decision will be at the discretion of the Taipei Times.