Stocks jump highest in three years
SPIKE The TAIEX rose 5.3 percent to close at 8,515.60, its biggest gain since May 2004, after dropping 9.4 percent last week, its worst decline since March 2004
Stocks rose the most in more than three years yesterday as Cathay Financial Holding Co (國泰金控) led all gainers after the US Federal Reserve Bank cut its discount loan rate to contain instability in financial markets caused by the collapse of some US subprime mortgage-backed investments.
"The Fed emerged as the cavalier in financial market turmoil and investors cheered by putting their money back into markets," said Yin Nai-yun, who oversees US$172 million at Prudential Securities Investment Trust Enterprise in Taipei.
The TAIEX index jumped 425.31, or 5.3 percent, to close at 8,515.60 in Taipei, its biggest gain since May 2004. The index dropped 9.4 percent last week, its worst since March 2004. All but 19 of the 651 stocks traded on the Taiwan Stock Exchange advanced yesterday. Futures due in next month surged 6.9 percent to 8,428.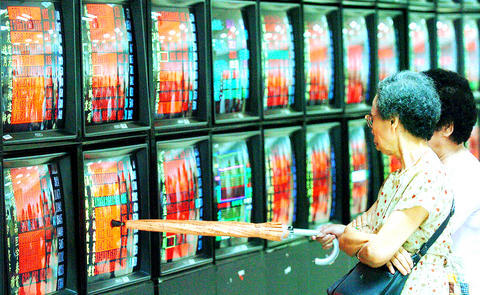 Investors examine stock prices yesterday in Taipei. The TAIEX closed up 425.31 points at 8,515.60 following a world-wide market rebound.
PHOTO: CHANG CHIA-MING, TAIPEI TIMES
Cathay Financial Holding Co, the nation's largest life insurer, climbed NT$4.90, or 7 percent, to NT$75. Formosa Petrochemical Corp (台塑石化), the largest oil refiner by value, advanced NT$4.40, or 5.2 percent, to NT$89.40.
Taiwan Semiconductor Manufacturing Co (台積電) , the world's biggest supplier of made-to-order chips, added NT$3.20, or 5.4 percent, to NT$62.20.
The Standard & Poor's 500 Index gained the most in four years on Friday in the US after the Fed reduced the interest rate it charges banks to 5.75 percent at an unscheduled meeting.
The Fed also acknowledged for the first time that a policy shift is needed in order to limit credit market losses.
The central bank may refrain from raising interest rates at a meeting next month after the Fed unexpectedly lowered its discount rate in order to contain the subprime mortgage problem, the Chinese-language Economic Daily News reported on Saturday, citing statements by unidentified government officials.
China Steel Corp (中鋼), the nation's largest steelmaker, rose NT$2.60, or 6.9 percent, to NT$40.10.
The steelmaker's profit this year may top NT$60 billion as demand for the metal looks to be "OK" for the second half of the year, the Chinese-language Commercial Times reported, citing China Steel Corp chairman Lin Wen-yuan.
Taishin Financial Holdings Co (台新金控), the nation's third-largest credit-card issuer, rose NT$1.05, or 6.9 percent, to NT$16.20.
Aegon NV, the second-largest Dutch insurer, may buy shares of Taishin, Taishin's chief financial officer Carol Lai (賴昭吟) said.
Aegon will buy shares in Taishin by the end of this year "if possible," she said.
Hon Hai Precision Industry Co (鴻海精密), the nation's biggest electronics company, gained NT$17, or 6.9 percent, to NT$263.
Comments will be moderated. Keep comments relevant to the article. Remarks containing abusive and obscene language, personal attacks of any kind or promotion will be removed and the user banned. Final decision will be at the discretion of the Taipei Times.