Jury finds Black guilty in fraud trial
HOLLINGER TRIAL Fallen newspaper tycoon Conrad Black was convicted for mail fraud and obstruction of justice, but was cleared of tax fraud and racketeering charges
Conrad Black, the gregarious press tycoon also known as Lord Black of Crossharbour, was found guilty on Friday by a Chicago jury on three counts of mail fraud and one count of obstruction of justice. He could face up to 35 years in prison.
Black was cleared of nine other counts against him, including racketeering. He is expected to appeal and the judge presiding over the case, Amy St. Eve, is expected to allow him to remain free on bail during that process. Three former associates were each found guilty of three counts of mail fraud.
The verdict came nearly four months after Black and the three associates went on trial together after being charged in 2005 with looting the company of more than US$80 million. At the trial, the amount was reduced to US$60 million that prosecutors argued was the property of Hollinger International Inc, the Chicago-based company Black led.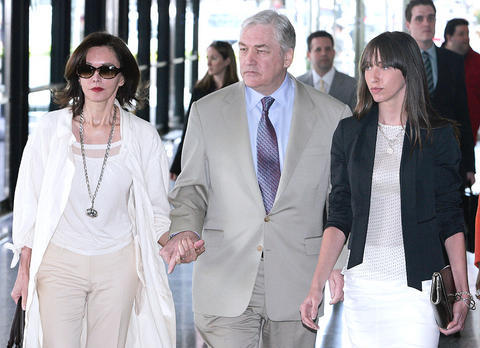 Deposed media tycoon Conrad Black, center, leaves the Everett McKinley Dirksen Federal Courthouse, in Chicago, Illinois, with his wife Barbara Amiel, left, and daughter Alana on Friday.
PHOTO: AFP
Through Hollinger International, Black once commanded a far-flung media empire that included the Daily Telegraph, the Jerusalem Post and the Chicago Sun-Times, as well as scores of local community papers.
At the conclusion of the trial, the jury was asked to rule on numerous counts of mail and wire fraud, tax fraud, obstruction of justice and racketeering against Black. Also charged with various counts of mail and tax fraud were Hollinger's former chief financial officer, John Boultbee; a former vice president, Peter Atkinson; and a former Hollinger lawyer, Mark Kipnis.
David Radler, who was Black's business partner for more than 30 years, pleaded guilty to a single fraud charge and was a key witness for the government, though prosecutors tried to play down his prominence in the case during their closings. If the court were to approve his deal with prosecutors, Radler could spend as little as six months in a Canadian prison.
Separately, he agreed to pay close to US$100 million to settle various civil and Securities and Exchange Commission actions stemming from the fraud. The SEC case grew out of an internal investigation at Hollinger that ousted Black and Radler as the top executives in 2003 and spawned the criminal investigation.
In addition to his potential incarceration, Black also faces more than US$1 billion in civil litigation from former shareholders of Hollinger International, the company itself and the SEC.
At the heart of the case were so-called noncompete payments, in which Black, Radler and the others were accused of lining their pockets with nearly US$60 million to in effect not compete with themselves in markets where papers were being bought or sold. The transactions in question took place between 1998 and 2001, when, under financial pressure, Hollinger International decided to sell most of its newspaper holdings including its community newspapers in the US and the largest chain of daily newspapers in Canada and the National Post, a paper Black had proudly founded in 1998.
The money, according to the government, rightfully belonged to the shareholders of Hollinger and amounted to illegal bonuses. Separate charges against Black alone accused of him of improperly using company coffers to subsidize his lavish lifestyle. Days of testimony dissected his purchase of a Park Avenue apartment from the company, a trip on the company Gulfstream to Bora Bora for vacation, and a birthday party he threw for his wife Barbara Amiel at a posh New York restaurant in December 2000.
Black did not testify in his own defense, nor did the other co-defendants. Rather, through his lawyer, Black argued that he had done nothing wrong and was the victim of a betrayal by Radler and former directors who he had appointed but had turned against him amid the intense focus on corporate governance after the collapses of Enron and WorldCom.
Unlike those companies, Hollinger International never faced financial collapse although most of its newspapers have now been sold and it is known as the Sun-Times Media Group.
Comments will be moderated. Keep comments relevant to the article. Remarks containing abusive and obscene language, personal attacks of any kind or promotion will be removed and the user banned. Final decision will be at the discretion of the Taipei Times.