Green Energy invests in solar module technology
FIRST IN TAIWAN The company hopes that pioneering solar module production using an advanced facility would help it tap into a niche market to ensure growth
Green Energy Technology Inc (綠能科技), the nation's biggest supplier of solar wafers, yesterday inked an agreement to buy solar module manufacturing equipment worth US$74 million from Applied Materials Inc of the US as it moves into high-end production.
The deal would allow Green Energy to lead its domestic peers, such as Wafer Works Corp (合晶科技), in making solar modules using the most advanced 8.5-generation facility.
Green Energy, which is affiliated with home appliances maker Tatung Co (大同), supplies solar wafers to some of the nation's largest solar cell makers such as Motech Industries Inc (茂迪).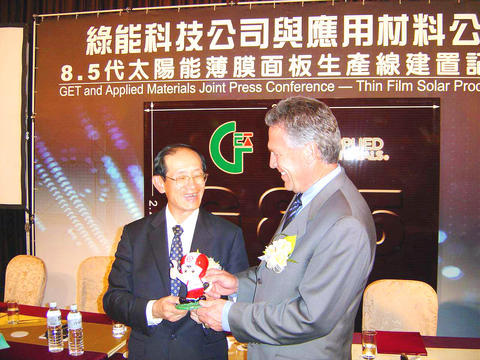 Green Energy Technology chairman Lin Wei-shan, left, and Applied Materials Inc CEO Mike Splinter hold a mascot at a press conference in Taipei yesterday. Green Energy will buy US$74 million in solar module equipment from Applied Materials to build an advanced 8.5G facility for the production of thin-film solar products.
PHOTO: CHEN YUNG-CHI, TAIPEI TIMES
"We've been working hard in the solar wafer industry, and we are seeking niche products [for further growth]," Green Energy president Lin Hur-lon (林和龍) told reporters at a media briefing.
The solar modules will be sold to solar farms mostly in Europe, while the solar cell panels are designed and sold mainly for building projects, Lin said.
Shares of Green Energy edged up 0.12 percent to NT$302 on the Emerging Stock Market (興櫃市場) yesterday, as investors continued chasing "green energy" shares amid rising oil prices.
The stock is expected to start trading on the nation's main bourse by the end of the year, the company said yesterday.
While some industry experts have commented that the new investment may be risky, Green Energy said it believed it would pay off given the fast-growing demand for thin-film solar cells, which is expected to rise by 62 percent per annum over the next few years.
"We are not worried about the demand side," Lin said.
Green Energy was established in April of 2004 with NT$750 million in paid-in capital.
The company plans to ramp up the first local solar module production line in the final quarter of next year, Lin said.
Annual output would be 30 megawatts and would increase to a maximum 50 megawatts by the end of 2009, he said.
"We think Green Energy's bold move will encourage more local firms to move into the solar cell industry, which is still new to local firms," said Arthur Hsu (胥嘉政), a solar industry analyst with Taipei-based Topology Research Institute (拓墣產業研究所).
Hsu warned, however, that it was still uncertain whether the thin-film solar module business would be a boon to Green Energy, citing technological barriers and a dearth of talent.
Responding to these concerns, Green Energy chairman Lin Wei-shan (林蔚山) said the company would share professional expertise and manpower with flat-panel maker Chunghwa Picture Tubes Inc (中華映管), citing similarities in their manufacturing process and raw materials.
Lin also doubles as chairman of the nation's No. 3 flat-panel maker.
"The integration in human resources may shrink the learning curve for Green Energy," Topology's Hsu said.
Comments will be moderated. Keep comments relevant to the article. Remarks containing abusive and obscene language, personal attacks of any kind or promotion will be removed and the user banned. Final decision will be at the discretion of the Taipei Times.