Sleek phones is name of the game at Singapore show
Sleek, stylish mobile phones are the star attractions at this year's CommunicAsia telecom fair which opened yesterday in Singapore.
Leading the charge are South Korea's high-tech giants, Samsung Electronics Co and LG Electronics Co, which both had large double-storey booths to showcase their latest range of mobile phones.
Samsung's Ultra Edition II family of mobile phones made its Southeast Asian debut at the four-day trade fair, which company executives say caters to users' desires for a stylish device without compromising functions.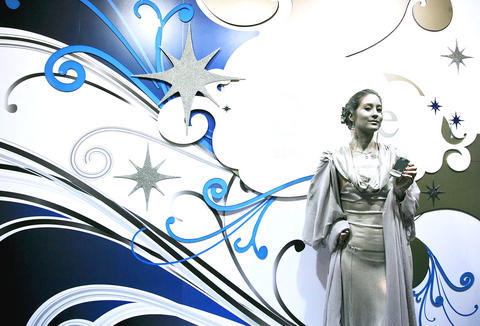 A model shows an LG Shine 3G mobile phone at the CommunicAsia infocommunications and telecommunications exhibition in Singapore yesterday.
PHOTO: EPA
The Ultra Edition 12.1 mobile phone, which measures a mere 12.1mm, comes equipped with 3.2 megapixel camera and camcorder, audio functions as well as high speed Internet connectivity of 3.6 megabits per second.
"We believe that the Samsung Ultra Edition II range encapsulates everything that today's consumers look for in mobile phones," said Geesung Choi, president and chief executive of Samsung's Telecommunications Network Business.
The PRADA mobile phone by LG, which was developed in partnership with Italian fashion house Prada, will appeal to users who want an upmarket device without minding the hefty price tag.
The super slim PRADA phone launched in January, which measures 12mm, occupies center stage at the LG booth where models of the device are displayed behind closed windows, giving one the feel of shopping at an upmarket boutique.
LG's other sleek handset, the Shine phone, is the other model being showcased by the South Korean tech giant, whose global sales have exceeded 2 million units.
LG sold over 4.7 million units of GSM mobile phones in Asia last year and is aiming to more than double its sales in the region this year to 9.5 million units.
"The Asian market is one of our key markets, as it has the potential to grow at double digit rates annually," said Skott Ahn, president and chief executive of LG Electronics Mobile Communications Co.
Madhusudan Gupta, a senior research analyst with Gartner, said sleek and slim mobile phones are the trend dominating the market at the moment as handset makers look to freshen up their appeal to users.
"All the major handset makers, every year, they have to come up with some kind of freshness," Gupta said. "This is the favor of the season, the slim factor."
Comments will be moderated. Keep comments relevant to the article. Remarks containing abusive and obscene language, personal attacks of any kind or promotion will be removed and the user banned. Final decision will be at the discretion of the Taipei Times.