Feature: Storyland seeks fairy tale ending
KNIGHT(S) NEEDED Franky Wu is hoping to find some investors that will give his debt-ridden trip down memory lane a cash injection. But no Chinese, please
About 20 investors have expressed an interest in taking over or pumping fresh capital into the valuable but cash-strapped Taiwan Storyland (台灣故事館), igniting a ray of hope that the unusual repository might not be closed for good.
"I'm really overwhelmed by the attention. Even officials from the Cabinet and the Taipei City Government have called to express concern," chairman Franky Wu (吳傳治) said during an interview yesterday.
Since the news broke that Taiwan Storyland, which showcases Wu's collection of Taiwanese memorabilia dating back to the 1950s and 1960s, would close last Sunday due to mounting debts, the 43-year-old collector has received a warm response from businesses and the public.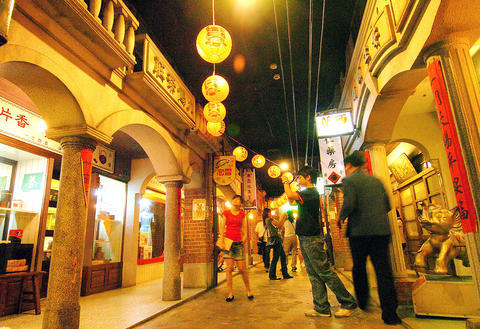 Visitors take photographs of the Taiwan Storyland museum in Taipei on May 26, one day before the collection closed because of financial problems.
PHOTO: CHEN TSE-MING, TAIPEI TIMES
He said the 20 businesspeople include two Chinese, who had expressed strong interest through Taiwanese friends in a buyout.
"I thanked them for their sincerity, but it would be impossible to let Chinese manage this business," Wu said.
As for the other 18 potential investors, he is still negotiating with them.
"Some are talking about long-term plans, but distant water cannot quench a nearby fire. I need to resolve the money issue now," he said.
Taiwan Storyland, located in B2 of the electronics retailer KMall opposite the Taipei Main Station, is a 1,500 ping (4,950m2) space that Wu transformed into an imaginary Taiwanese township with old billboards, stores and streets to showcase his collections, including a Mazda three-wheeler, air-raid shelters and movie projectors.
When the museum was opened in late 2005, Wu controlled 51 percent of the NT$100 million (US$3 million) business. It has recorded 700,000 visits during the past year-and-a-half, with 10 percent of its customers hailing from Japan, South Korea and Hong Kong.
Former minister of foreign affairs Mark Chen (陳唐山) has visited the museum more than 30 times, leading groups of foreign guests.
But the company's lack of marketing and operational skills led it into a financial hole.
Seeing no possibility of making money, some of the original shareholders withdrew their money or refused to make an additional investment. Now the business has a NT$20 million shortfall and Wu has been trying to find ways to pay his 80 employees their final month's salary.
Wu said his personal loss would surpass NT$90 million if Storyland closed its doors forever, taking into account his original investment and NT$30 million in bank loans.
"If we can get new financial support, I'd definitely stay here as a volunteer," he said, wearing a T-shirt designed to resemble those made of flour bag cloth often seen in the 1950s.
Analyzing the reasons for the venture's failure, Wu said that during the first year of operations, he was preoccupied with resolving disputes over the space's property rights. The site used to belong to the Asiaworld Department Store (大亞百貨), which was auctioned off over more than three years.
Once the problem was settled, it was too late to adjust Storyland's market positioning, he said.
For instance, about one-tenth of the people who arrive at Storyland's ticket booth chose not to come in as they did not want to pay an admission fee of NT$250, even though that amount was fully redeemable in shops or restaurants inside the complex.
"We should have also outsourced the food and beverage section to famous restaurants. Establishing our own brands was difficult," Wu said.
The budget also spun out of control, he said.
The items displayed in Storyland represent just part of Wu's 20,000-piece collection.
In response to calls from the public, he opened the site for free yesterday to allow visitors to take photographs.
"They've done a good job preserving these traditional things. It'd be a shame if the museum had to be shut down," said a middle-aged woman surnamed Chen, who had brought her seven-year-old son along for a visit.
"Storyland really needed more marketing. I never noticed its existence although I pass by this area a lot," she said.
"They should just ask [Hon Hai Precision Industrial Co (鴻海科技) chairman] Terry Gou (郭台銘) to invest NT$100 million," she said.
Comments will be moderated. Keep comments relevant to the article. Remarks containing abusive and obscene language, personal attacks of any kind or promotion will be removed and the user banned. Final decision will be at the discretion of the Taipei Times.