TSMC says Q1 earnings plunged 42%
Taiwan Semiconductor Manufac-turing Co (TSMC, 台積電) yesterday reported a 42 percent drop in quarterly earnings for the first quarter as demand weakened on excessive inventory, but the world's top contract chipmaker said demand is rebounding.
Net income fell to the lowest level in seven quarters at NT$18.84 billion (US$567 million), or NT$0.73 per share, during the quarter ended March 31, compared to NT$32.61 billion, or NT$1.26 a share, a year earlier.
"We think demand is certainly recovering. We also believe the recovery will extend into the rest of the year," TSMC chief executive Rick Tsai (蔡力行) told investors yesterday.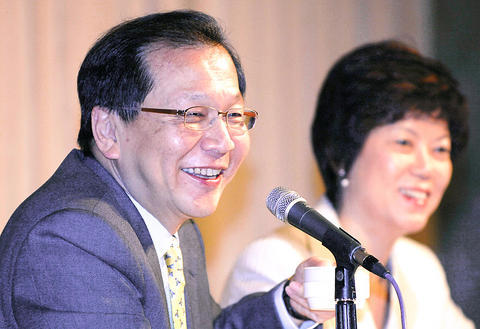 Rick Tsai, chief executive officer of Taiwan Semiconductor Manufacturing Co, and chief financial officer Lora Ho smile during a quarterly report meeting in Taipei yesterday. The company said its first quarter net profit dropped 42 percent year-on-year as inventory corrections continued to hit.
PHOTO: SAM YEH, AFP
Sales of chips used in communications devices such as mobile phones and consumer products would grow by "double digits" at a quarterly rate during the current quarter, while the growth for chips for computers would be relatively slower, chief financial officer Lora Ho (何麗梅) said.
"A majority of our customers' excess inventory has been worked through in the first quarter and the recovery of our business is already in place," Lo said.
Communications chips are the biggest contributor for TSMC, accounting for 42 percent of the chipmaker's revenues last quarter.
TSMC's customers, including Texas Instruments Inc (TI) and Qualcomm Inc, expect a pick-up in demand for high-end telephones this quarter.
Boosted by improving demand, revenues would to increase by 12 percent to 15 percent to between NT$73 billion and NT$75 billion in the second quarter, Ho said.
Revenues dropped 16.6 percent to NT$64.9 billion last quarter from a year ago.
Gross margin would also improve to between 42 percent and 44 percent this quarter from 37.9 percent last quarter and operating profit margin would rise to between 32 percent and 34 percent from 27.5 percent, she said.
The chipmaker's projection for revenues expansion is weaker than the 19 percent forecast by Rick Hsu (徐稦成), a semiconductor analyst at Nomura Securities Co in Taipei.
"We saw some recovery in TSMC's customers such as TI and NVIDIA Inc, but price competition in the current quarter is more drastic than we thought as reflected in [slower-than-expected] revenues growth," Hsu said.
As growth overall in the semiconductor industry is slowing, investors want to know what will drive TSMC's growth.
Tsai said the firm was very interested in the microprocessor business, where its presence is currently small, and it was also looking at opportunities in the memory chip market other than NOR-type flash memory chips it makes now.
TSMC said the memory business would play a bigger role this year, accounting for between 5 percent and 10 percent of its total revenues from the current 4 percent.
"TSMC must search for new fields for growth as its operations are closely linked to the semiconductor industry now," Hsu said.
Comments will be moderated. Keep comments relevant to the article. Remarks containing abusive and obscene language, personal attacks of any kind or promotion will be removed and the user banned. Final decision will be at the discretion of the Taipei Times.