Inventors look to Geneva show for fame, fortune
What do the automatic fish catcher, the easy sushi-maker, and the body-shaping petticoat all have in common? They're creations of some of the world's most innovative minds for the world's laziest bodies.
Hoping to turn their contraptions into capital, some 700 inventors from 42 countries have gathered at the International Exhibition of Inventions to show off gizmos ranging from a multifunction umbrella that contains an anti-mugger alarm to personal armor made of coconut-fiber.
The fair -- the world's largest of its kind -- features some 1,000 new inventions by industrial and commercial companies, independent researchers and even amateurs like one who offers a way to eat spare ribs without burning your fingers.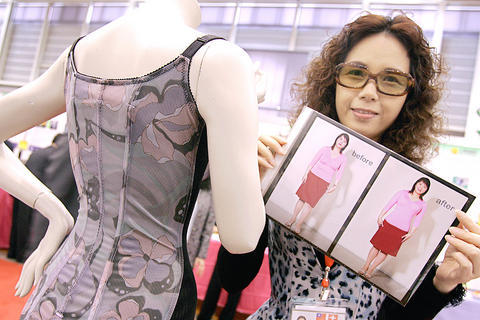 Inventor Chuang Pi-yu shows her ``S string design'' invention -- a body shaping underwear that creates perfect body curves -- last Wednesday at the opening day of the 35th Exhibition of Inventions of Geneva, Switzerland.
PHOTO: AFP
Solutions for those resistant to exertion seem to be a recurring theme at this year's 35th edition, which opened last Wednesday and closed yesterday.
One notable invention is the spring-loaded fish hook -- the equivalent of an underwater mouse trap. After attaching the float to the fishing pole, the "sportsman" lowers a lever into the set position. The fish has only to nibble on the bait to trigger the spring and find itself with a dart through the lips.
But isn't that cheating?
"Well, it could be," admitted inventor Michael Adcock, the only US entry at the fair. "It's a lazy-man's way of fishing. That way you can drink more beer. That's what more fishermen are really out there for anyway ... Normally, you've got to be watching the float. With this, you can look away, take a sip, do whatever."
Once they've nabbed their fresh fish, chefs who like to cut corners might be interested in Easy Sushi, a contraption that resembles a cigarette roller and allows any clumsy cook to whip up a masterful-looking maki in just minutes.
Couch potatoes who are disinclined to diet can turn to custom-made body-shaping underwear.
To parade her product, 47-year-old Taiwanese inventor and designer Chuang Pi-yu donned one of the stylish body corsets, instantly reducing her waist from 74cm to 58cm. The outfit, which costs around US$800, encases the torso and legs, is also bust-enhancing and has a handy full bottom snap-on flap.
Mix indolence and the environment and you get the Standby Plug.
According to inventor Karl Dorn's brother Aaron, a TV in standby mode still uses up to 85 percent of the power it does when switched on. He claimed the Standby Plug shuts down appliances completely after they go into standby mode.
The environment is a hot topic at this year's exhibit and not all entries are aimed at the lazy.
The MacStrap, a lightweight emergency power pack for handheld portable appliances such as cellphones, digital cameras, MP3 players and iPods, seems like a must for hikers and campers. Worn outdoors for 35 to 40 minutes, the MacStrap can power a three-minute cellphone call. About 20 hours are needed to fully charge a phone, creator Roark McMaster said.
A crematable funeral ornamentation called Memopack is another eco-friendly gem. Made from paper but resembling a standard marble or wood plate, Memopack can be personalized with pictures, drawings, a lock of hair or letters before being placed on the coffin, and can be burned or fully biodegraded.
Inventions can only be entered only once at the Geneva show and must be patented. Some far-out ideas included scented socks; an automatic food distributor for animals that includes a medical check up; and the Q-Grip, a utensil designed to hold hot pieces of meat by the bone.
Comments will be moderated. Keep comments relevant to the article. Remarks containing abusive and obscene language, personal attacks of any kind or promotion will be removed and the user banned. Final decision will be at the discretion of the Taipei Times.