Mobile makers expect 3.5G to boost prices
HSDPA CLUB By launching the 3.5G service, the nation is joining a select group of countries offering high-speed wireless data transfer to corporate customers
Handset makers are expected to see a rise in average selling prices this year, thanks to the upcoming launch of 3.5-generation (3.5G) mobile phones, a market research report said.
"Telecom operators have been aggressively pushing value-added data services and we will see more introductions of handsets running on the 3.5G technology this year," International Data Corp (IDC) Taiwan said in a report dated March 30.
Earlier launches of 3.5G -- or High Speed Downlink Packet Access (HSDPA) -- data cards, which offer much higher speeds than 2-megabytes-per-second broadband connections, are mainly intended for providing Internet access for notebook computers.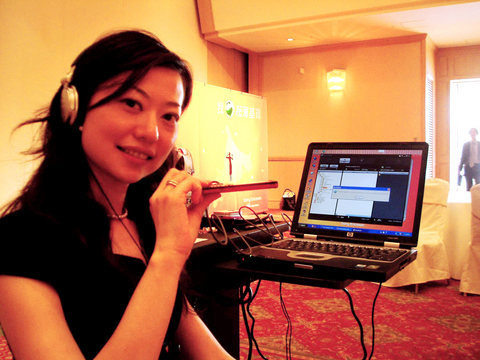 A woman demonstrates how to download music on a Sony Ericsson cellphone on March 20. Music cellphones have become the darlings of the nation's mobile phone service providers. A survey by Sony Ericsson Music Monitor showed that music cellphone users listen to an average of 4.4 hours of music per day on their phones.
PHOTO: WANG YI-HUNG, TAIPEI TIMES
But consumers could expect more releases of handsets using the technology, the IDC report said.
Local telecom operators -- including Chunghwa Telecom Co (中華電信) and Far EasTone Telecommunications Co (遠傳電信) -- had already started offering 3.5G service as early as last September in certain areas.
The introduction of the HSDPA service signifies that the nation has joined the ranks of technological pioneers including Japan, Hong Kong, the UK and the US in commercializing high-speed wireless communication services as corporate customers seek higher speeds to send and receive large PowerPoint presentations and e-mail attachments through mobile phones.
The IDC report also said that sales of mobile phone in the nation had shown good growth in the fourth quarter last year.
Total sales hit 1.8 million units, a quarter-on-quarter increase of 1.3 percent and an annual rise of 8.2 percent, statistics showed.
The brisk sales were attributed to the growing popularity of music-playback-capable mobile phones, a feature that handset makers strongly pushed with music enthusiasts.
The fourth-quarter market was still dominated by major foreign brands including Nokia Oyj, Motorola Inc and Sony Ericsson Mobile Communications Ltd, which accounted for approximately 65 percent of the market, the report said.
South Korean makers, including Samsung Electronics Corp and LG Electronics Corp, held 11 percent of the market, while local players -- such as Asus, BenQ Siemens and OKWAP -- saw their share decline to 13 percent, the report said.
With regards to 3G handset sales, the figure rose 15 percent in the fourth quarter over the previous one, thanks to high handset subsidies for subscribers as well as operator aggressively pushing the service, the IDC said.
The IDC said, however, that "there was still a big gap between the operators' claims on number of 3G subscribers and actual shipments of 3G phones."
The researcher nevertheless expects the 3G market to boom this year after lower-end models become available.
Comments will be moderated. Keep comments relevant to the article. Remarks containing abusive and obscene language, personal attacks of any kind or promotion will be removed and the user banned. Final decision will be at the discretion of the Taipei Times.