China jet eyes 60% share
EXPANSION The ARJ-21 is cheaper to build and will dominate the domestic market, but it could also make inroads into overseas markets where Beijing holds sway
China's first home-built commercial jet is expected to grab up to 60 percent of the domestic market for mid-size regional airliners over the next 20 years, the company's president said yesterday.
China recently announced plans to build a large commercial jet by 2020, but Zheng Qiang (鄭強), president of AVIC I Commercial Aircraft Co, said the project was still being studied and no information had been relayed to his company.
China will need 900 mid-sized regional jets over the next two decades, the firm estimates, as economic growth drives expansion of air travel and airlines look for planes tailored to feeder routes.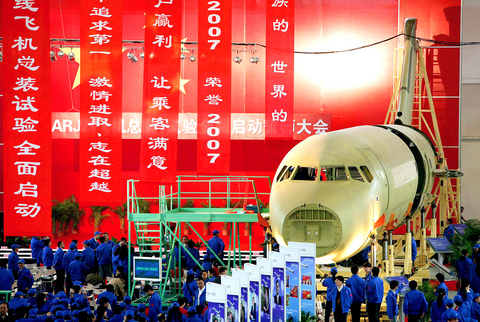 Workers attend a ceremony for the final assembly of the ARJ-21 regional jet in Shanghai on March 30.
PHOTO: EPA
Sales of the mid-sized ARJ-21, which has a seating capacity of 78 to 85, could come at the expense of Canadian airplane maker Bombardier Inc and Brazil's Embraer SA.
Zheng said the ARJ-21's operating costs were up to 15 percent lower than its competitors, and put its list price at about US$30 million -- several million dollars less than comparable aircraft made by Bombardier and Embraer.
The initial focus for the ARJ-21 will be on the domestic market, but Zheng said the company also expects to sell the planes in Africa, other parts of Asia and South America, where it enjoys strong Chinese government support.
Chinese airlines that have already ordered 71 of the planes were not compelled to do so by the government, he said.
"This is entirely down to our own marketing," Zheng said at the firm's offices in Shanghai.
The ARJ-21 is now under production, with the first test flights planned for next year. Zheng said development costs totaled 6 billion yuan (US$776 million).
The plane's suburban Shanghai final assembly line will produce 15 units per year, rising to 50 per year by 2015, he said. The firm will also open a service center in Shanghai later this year to provide training and maintenance for customers.
A collection of 19 foreign companies are supplying components to the plane, including engines from General Electric, a flight control system from Honeywell and avionics from Rockwell Collins.
EMBRAER
Separately, Embraer expects to sell more than 600 planes in China over the next 20 years, Frederico Fleury Curado, executive vice president for commercial aircraft sales of the world's fourth-largest aircraft maker, said in Singapore on Wednesday.
"China, as a country, is probably the second-largest market for us," Curado said. "We're focusing on planes in the 30 to 120-seat range, and we see over 1,000 planes over the next 20 years."
The Brazilian company holds 51 percent of a venture with state-owned China Aviation Industry Corp II, which assembles 50-seat planes in Harbin, Heilongjiang Province.
"Foreign manufacturers have really got no choice but to engage with China and to invest and partner with the Chinese aerospace industry because it is such a large potential market," said Derek Sadubin, chief operating officer of the Sydney-based Centre for Asia-Pacific Aviation. "Embraer has cause to be quite optimistic about its prospects across the region and also in China."
Embraer has two-thirds of the Asia Pacific market share for 30 to 120-seat planes and a firm order backlog for 130 aircraft in the region. The company wants to keep a share of between 60 percent and 70 percent, Curado said.
The company's customers include Paramount Airways Pvt, Hong Kong Express Airways Ltd, Taiwan's Mandarin Airlines (華信航空), China's HNA Group and Virgin Blue Holdings Ltd, Australia's second-biggest airline, which this week ordered six more Embraer aircraft.
Comments will be moderated. Keep comments relevant to the article. Remarks containing abusive and obscene language, personal attacks of any kind or promotion will be removed and the user banned. Final decision will be at the discretion of the Taipei Times.