Economist warns over yuan hoarding
The government should take action to prevent the hoarding of Chinese currency from undermining its monetary policy, an economist said yesterday.
Hung Tsai-lung (洪財隆), a research fellow with the Taiwan Institute of Economic Research (台經院), said locals may have amassed more than 100 billion yuan (US$12.9 billion).
The accumulation of Chinese currency in Taiwan can be attributed to a combination of factors, including China's chronic trade deficit with Taiwan and the inclination of Taiwanese businesspeople operating in China to bring the currency home, Hung said.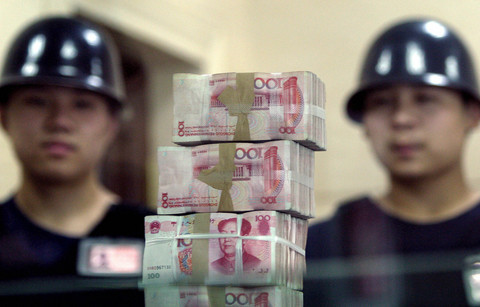 Armed guards prepare to transport Chinese currency at a bank in Changchun, Jilin Province on Aug. 22, last year.
PHOTO: AP
After March 2004, the central bank allowed Taiwanese citizens to bring up to 6,000 yuan with them each time they returned home. In October 2005, the amount was raised to 20,000 yuan. According to an estimate by the Mainland Affairs Council, Taiwanese have made a more than 12 million visits to China over the past three years.
"If each traveler brings home 6,000 yuan on their return, then that would mean about 72 billion yuan has been brought into the country over the past three years," Hung said.
He added that the total domestic yuan stash probably exceeds 100 billion as Chinese currency was brought in before 2004, including earnings from illegal trade deals between fishing boats from the two sides of the Taiwan Strait.
As Taiwan may soon fully open its doors to Chinese tourists, Hung said the domestic Chinese yuan stash may increase further. Noting that yuan cannot be converted into local currency, Hung said the government should not ignore the possible negative effects of the yuan hoarding.
"Money laundering and banknote counterfeiting that could arise from the influx of yuan onto the black market may only be trivial matters compared with the possible resulting strain on the domestic currency circulation as a result of financial authorities' inability to get real-time monetary market information," Hung said.
Worse still, Hung said, the current ban on yuan conversion would hobble Taiwanese businesspeople's funding operations and consequently discourage them from remitting their earnings back to Taiwan.
Comments will be moderated. Keep comments relevant to the article. Remarks containing abusive and obscene language, personal attacks of any kind or promotion will be removed and the user banned. Final decision will be at the discretion of the Taipei Times.